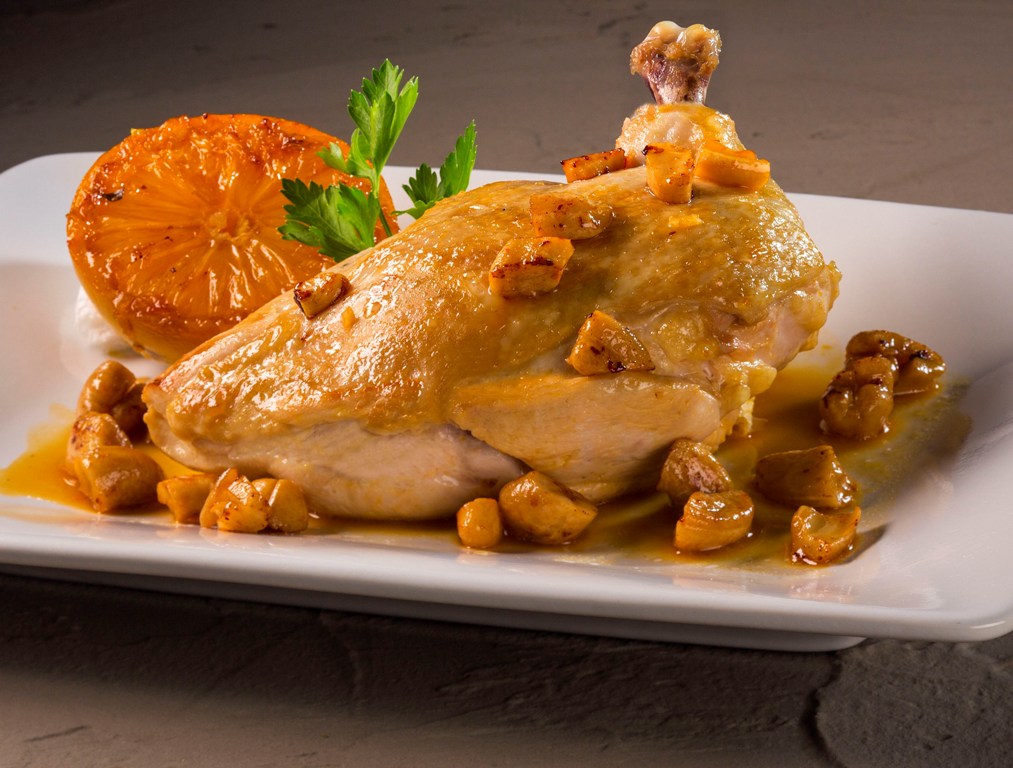 Cashew Chicken with Orange Glaze
Ingredients
1 cup Florida Orange Juice

6 each Florida Orange slices, cut 1/4-inch thick, if desired

1 ¼ cups mirin

3 tbsp. Soy sauce

2 cups raw cashews, roughly chopped

6 chicken breasts (6 oz.), French cut .

6 each Florida Orange slices, cut 1/4-inch thick, if desired

Parsley sprigs, if desired
Preparation
Cashew Chicken with Orange Glaze
2.
Combine Florida Orange Juice and mirin in small saucepan over medium heat; cook and reduce to one-half volume. Add soy sauce and cashews to orange juice mixture; stir to combine.
3.
Line sheet pan with parchment paper; place chicken breasts on parchment paper. Spoon cashew mixture over chicken breasts; cook for 20 to 25 minutes or until cooked throughout.
4.
Line baking sheet with parchment paper; place orange slices on parchment paper. Cook orange slices with chicken for 20 to 25 minutes. Place chicken breasts on serving plate.
5.
Garnish with roasted Florida Orange Slices and parsley, if desired.
Nutrition Facts
Amount per serving
Calories
*The % Daily Value tells you how much a nutrient in a serving of food contributes to a daily diet. 2000 calories a day is used for general nutrition advice.