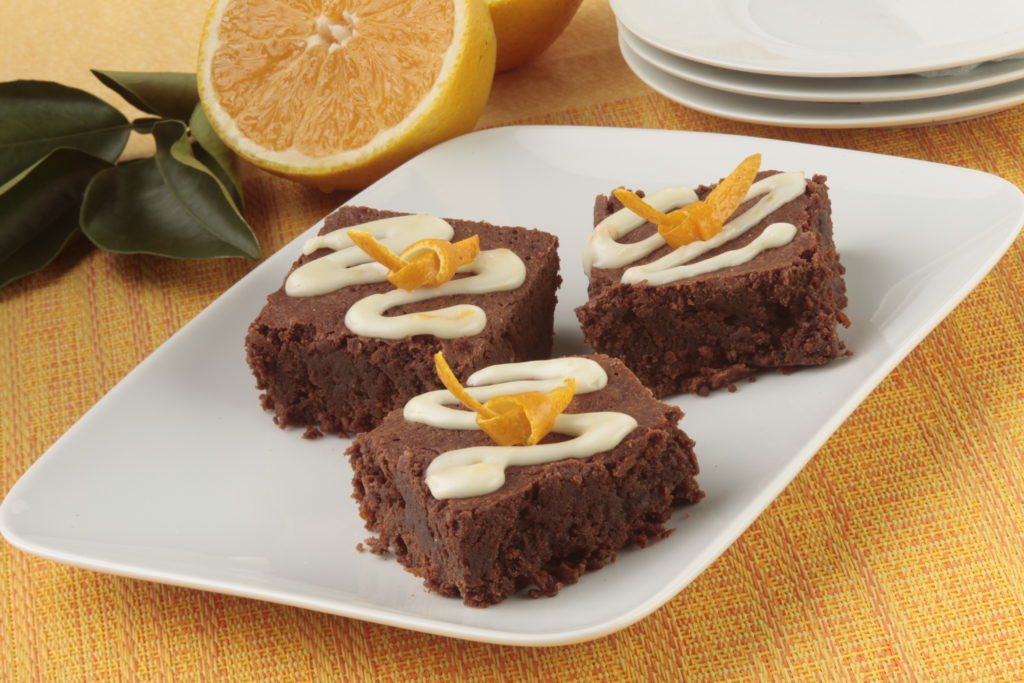 Chocolate Florida Orange Brownies
Ingredients
1 cup Florida Orange Juice
1 tbsp. Florida Orange zest
4 squares unsweetened baking chocolate
⅔ cup butter
2 cups sugar
4 eggs
1 tsp. vanilla
1 ¼ cups all-purpose flour
1 tsp. baking powder
½ tsp. salt
Florida Orange Glaze:

2 to 3 tbsp. Florida Orange Juice
Zest of 1 Florida Orange
2 cups powdered sugar
Preparation
Chocolate Florida Orange Brownies
1. Preheat oven to 350° F.
2. Grease and flour a 9 x 9 inch baking pan.
3. Place Florida Orange Juice in a small saucepan and cook over medium heat until reduced to ⅓ cup. Cool and set aside.
4. Melt chocolate and butter over very low heat in a 3-quart saucepan, stirring often. Remove pan from heat and stir in sugar until mixture becomes smooth.
5. Stir in eggs one at a time, beating after each egg is added. Add reduced Florida Orange Juice, Florida Orange zest and vanilla. Stir until sugar is completely dissolved and mixture is smooth and glossy.
6. In a small bowl, combine flour, baking powder and salt and stir well. Add flour mixture to chocolate mixture in thirds, stirring to combine. Do not over mix.
7. Spread brownie batter in a prepared baking pan and bake for 22 to 27 minutes.
8. Brownies should just start to pull away from the sides of the pan and should still be a bit underdone in the center.
9. Remove pan to wire rack to cool completely.
10. While brownies cool, prepare Florida Orange Glaze. In a small bowl, combine powdered sugar and Florida Orange zest. Stir in Florida Orange Juice one tablespoon at a time until the mixture becomes a thick glaze.
11. When brownies are completely cool, drizzle with Florida Orange Glaze and garnish with Florida Orange zest, if desired.
12. Cut into squares and serve immediately.