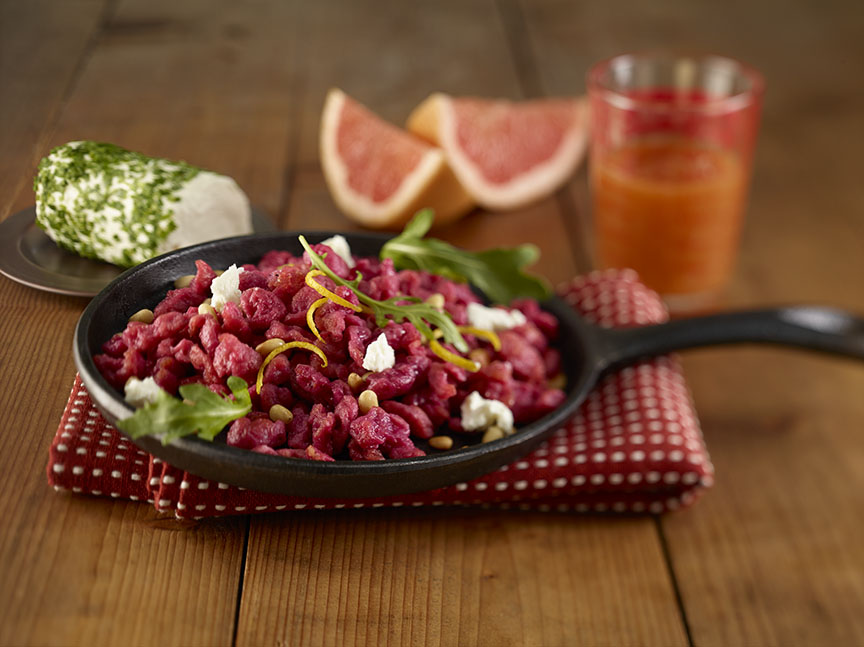 Citrus And Beet Spaetzle with Pine Nuts, Goat Cheese and Baby Arugula
Ingredients
Nutrition Facts
Amount per serving
Calories
232.7
% Daily Value*

Total Carbohydrate

23.7g

9%
*The % Daily Value tells you how much a nutrient in a serving of food contributes to a daily diet. 2000 calories a day is used for general nutrition advice.
1 cup Florida Grapefruit Juice

½ tsp. Florida Orange zest

2 cups all-purpose flour

¼ cup milk

¼ cup beet juice

2 eggs

¼ cup shallots, minced

½ cup pine nuts
½ cup goat cheese, crumbled

1 cup baby arugula

¼ cup olive oil

Salt and white pepper to taste
Preparation
Citrus And Beet Spaetzle with Pine Nuts, Goat Cheese and Baby Arugula
1. In a mixing bowl, combine the flour, milk, beet juice, eggs and Florida Orange zest and whisk until the batter is smooth.
2. Drop the batter into a spaetzle dropper over a pot of boiling water. Move the dropper back and forth until all the batter has dropped into the water. When it floats, strain the spaetzle and place into an ice bath.
3. In a small pot, reduce the Florida Grapefruit Juice and shallots to ¼ cup and set aside.
4. Heat olive oil in a large rondeau over medium-high heat. When the oil smokes, add the strained spaetzle. Sauté until golden brown, add the pine nuts and toast in the rondeau.
5. Turn off the heat, fold in the goat cheese and baby arugula and spread the mixture evenly onto 4 plates. Drizzle the Florida Grapefruit-shallot reduction over top. Season to taste with salt and white pepper.