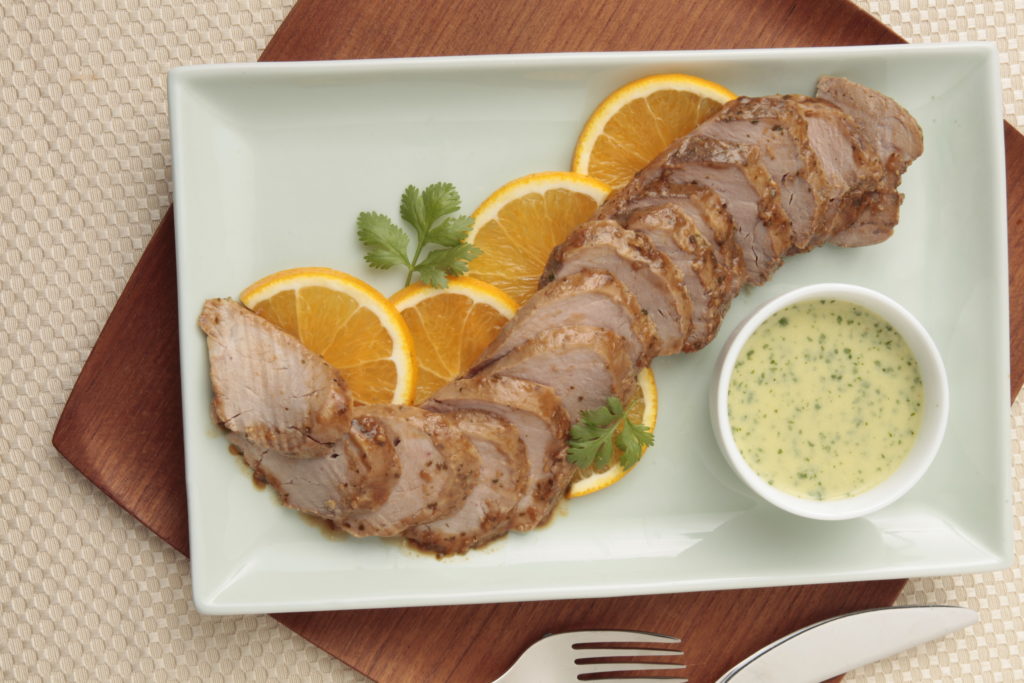 Citrus Coconut Cilantro Pork Tenderloin
Ingredients
1 cup Florida Orange Juice
3 (¼ inch) slices fresh ginger
¾ cup cilantro
¼ cup sliced onion
4 cloves garlic
2 tbsp. extra virgin olive oil
1 tbsp. sugar
Salt and pepper to taste
¾ cup coconut milk
1 ½ to 2 lbs. pork tenderloin
Florida Orange slices for garnish, optional
Cilantro for garnish, optional
Preparation
Citrus Coconut Cilantro Pork Tenderloin
1. Preheat oven to 375° F.
2. Mince ginger in a food processor. Add cilantro, onion, garlic, olive oil, sugar, salt and pepper and process until mixture is very fine.
3. Add Florida Orange Juice and coconut milk and process until sauce is smooth, stopping and scraping down sides of bowl several times.
4. Cover a 13 x 9 inch pan with foil. Place pork tenderloin in the pan and pour about ¾ cup sauce mixture over pork to coat.
5. Roast pork to 160° F internal temperature. Remove from oven and let pork rest for 15 minutes before slicing.
6. Serve with remaining sauce mixture for dipping. Garnish with Florida Orange slices and cilantro, if desired.