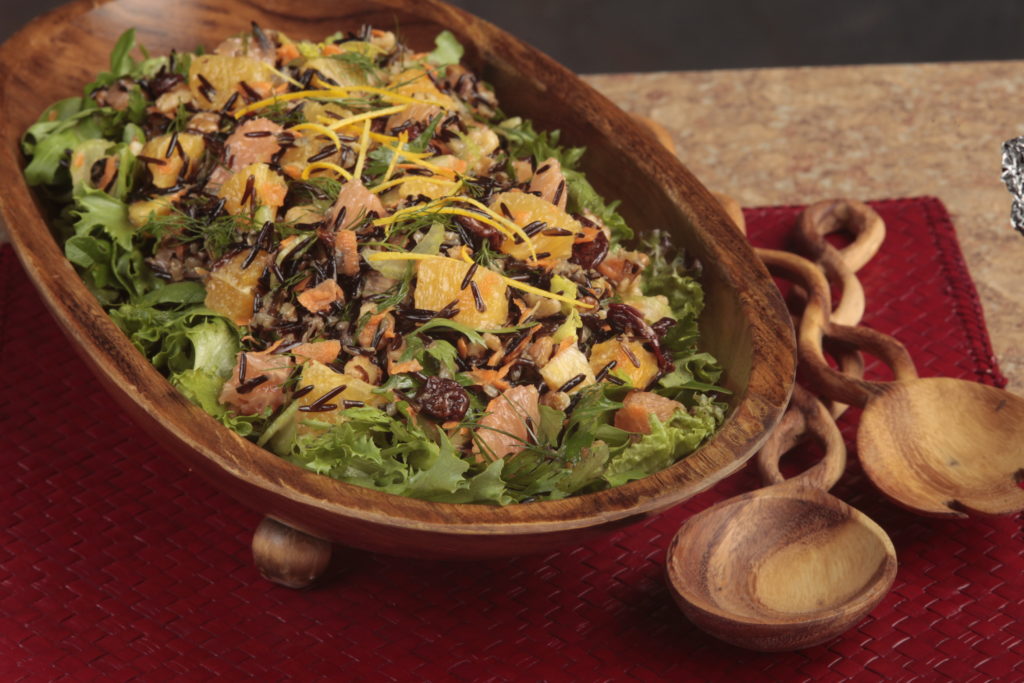 Cranberry Walnut Wild Rice Salad
Ingredients
¾ cup Florida Orange segments, seeded

½ cup Florida Grapefruit segments, seeded

2 cups Florida Orange Juice
Florida Orange zest, for garnish

2 tbsp. olive oil

½ cup yellow onion, diced

2 cups wild rice

2 cups water

1 bay leaf

Salt and pepper to taste

¾ cup celery, diced

½ cup dried cranberries, chopped

½ cup walnuts, chopped

2 tbsp. sherry vinegar

2 tbsp. olive oil

1 cup mixed greens
Preparation
Cranberry Walnut Wild Rice Salad
1. Place olive oil and onions in a medium saucepan and sauté for 3 to 4 minutes. Add wild rice, Florida Orange Juice, water and bay leaf and season to taste with salt.
2. Cook for 20 to 25 minutes, until rice is tender but not overcooked (rice grains will split open when cooked.)
3. Remove from heat and let stand for 5 minutes. Remove bay leaf, fluff rice with a fork and refrigerate until chilled.
4. Combine chilled rice, celery, cranberries, walnuts, Florida Orange and Florida Grapefruit segments, sherry vinegar and olive oil in large mixing bowl. Mix well to combine and season with salt and pepper to taste.
5. Place a small bed of mixed greens on serving plates and spoon wild rice salad on top. Garnish with Florida Orange zest.