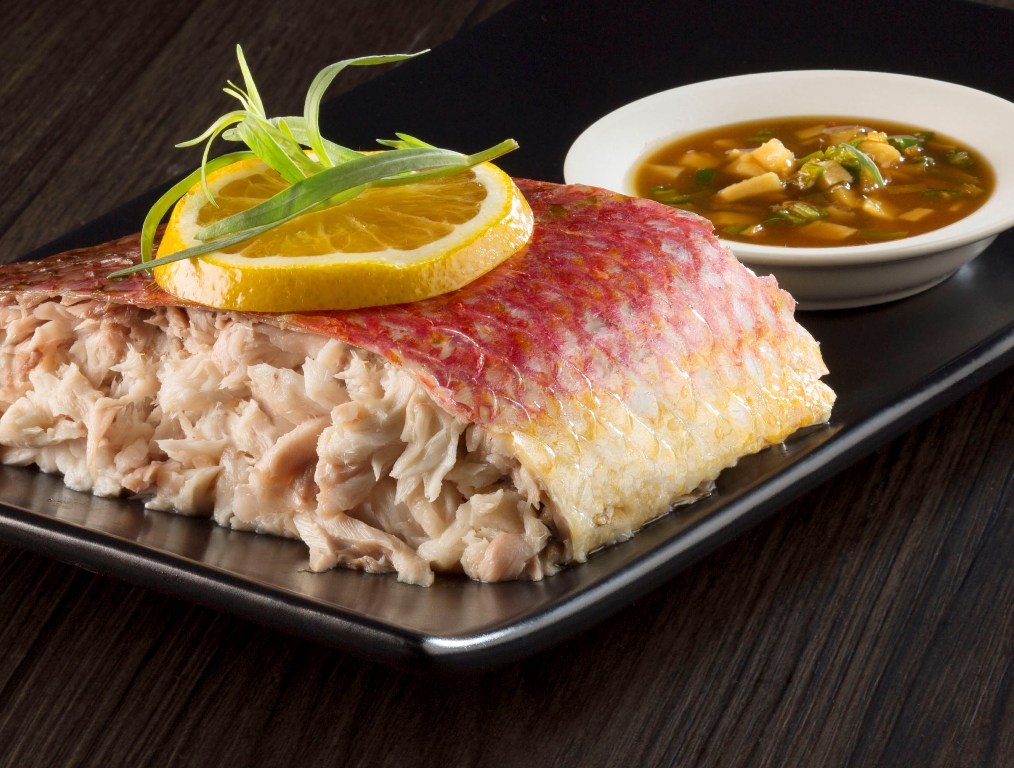 Florida Citrus Red Snapper with Orange Thai Chile Sauce
Ingredients
10 Florida Orange slices, ¼-inch thick, divided

½ cup Florida Orange zest

3 lbs. kosher salt

8 egg whites, whipped to soft peaks

1 whole red snapper (4 to 5 lbs.), descaled

12 fresh tarragon sprigs, divided
For Orange Thai Chile Sauce:
3 cups Florida Orange Juice

⅓ cup soy sauce

⅓ cup mirin
⅓ cup rice wine vinegar

4 Thai chiles, seeded and minced

½ cup green onions, minced

¼ cup fresh ginger, minced

¼ cup brown sugar

Preparation
Florida Citrus Red Snapper with Orange Thai Chile Sauce
1. Preheat oven to 350° F.
2. Combine salt, egg whites and Florida Orange zest in a large bowl and stir until completely mixed.
3. Line a large roasting pan with parchment paper. Create a ¼-inch thick layer of the salt mixture that is large enough for the entire snapper to lay on. Place snapper on salt mixture. Stuff the cavity with 4 Florida Orange slices and 6 tarragon sprigs.
4. Cover the snapper with the remaining salt mixture, pressing salt mixture firmly on top of fish and sealing all edges. Bake for 35 minutes.
5. To prepare Orange Thai Chile Sauce, place Florida Orange Juice in a saucepan and cook over medium heat until reduced to 1 cup. Remove from heat and allow to cool. Stir in remaining ingredients and set aside.
6. To serve fish, slide spatula under the parchment paper and carefully transfer the whole fish to a serving platter. Cut through the salt crust with a paring knife around the entire perimeter and remove top layer of salt crust.
7. Place portions of snapper on individual serving plates and garnish with remaining Florida Orange slices and tarragon sprigs. Serve with Orange Thai Chile Sauce.