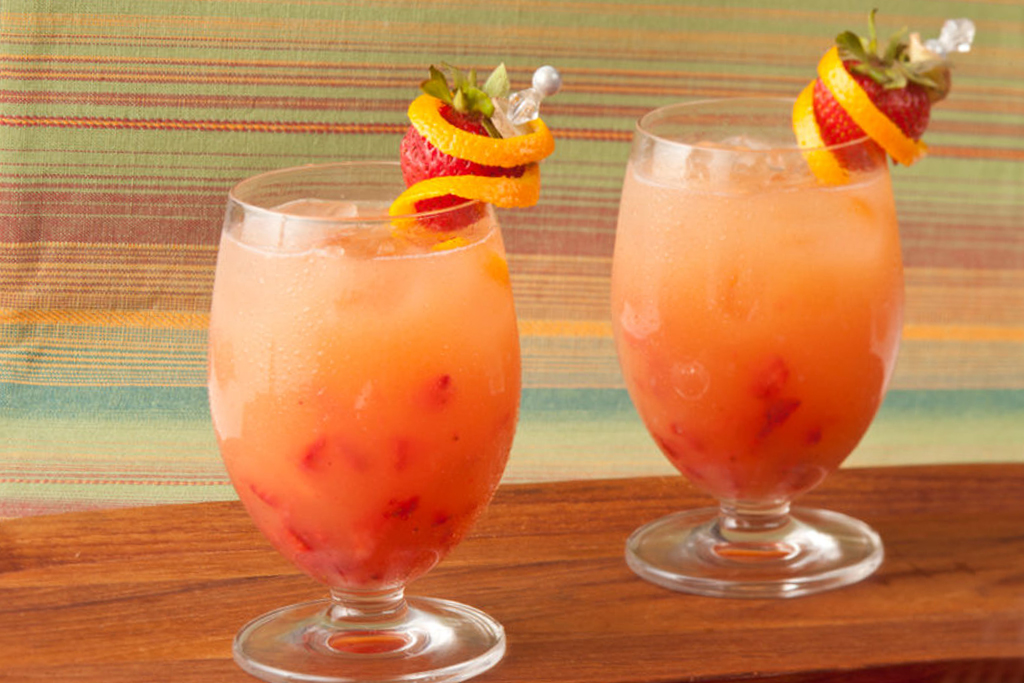 Florida Citrus Strawberry Iced Green Tea
Ingredients
Nutrition Facts
Amount per serving
Calories
228
% Daily Value*

Total Carbohydrate

58.9g

21%
*The % Daily Value tells you how much a nutrient in a serving of food contributes to a daily diet. 2000 calories a day is used for general nutrition advice.
1 cup Florida Orange Juice

1 cup Florida Grapefruit Juice

6 Florida Orange wedges

6 Florida Grapefruit wedges

4 ½ cups water

18 green tea bags

¾ cup honey

1 ½ cups strawberries, hulled and chopped

½ cup mint leaves

¼ cup lemon juice

Ice

Preparation
Florida Citrus Strawberry Iced Green Tea
1. Bring water to boil in a saucepan, then remove from heat. Add tea bags and steep for 15 minutes.
2. Remove tea bags and discard. Add honey to tea and mix well. Refrigerate until chilled.
3. Combine strawberries and mint leaves in a cocktail shaker. Muddle ingredients until strawberries are crushed and mint is fragrant.
4. In a large pitcher, combine muddled strawberry mixture, chilled green tea, Florida Orange Juice, Florida Grapefruit Juice and lemon juice. Refrigerate for 2 to 3 hours until well chilled.
5. To serve, pour Florida Citrus Strawberry Green Tea into tall glasses filled with ice. Garnish with Florida Orange and Florida Grapefruit Wedges.