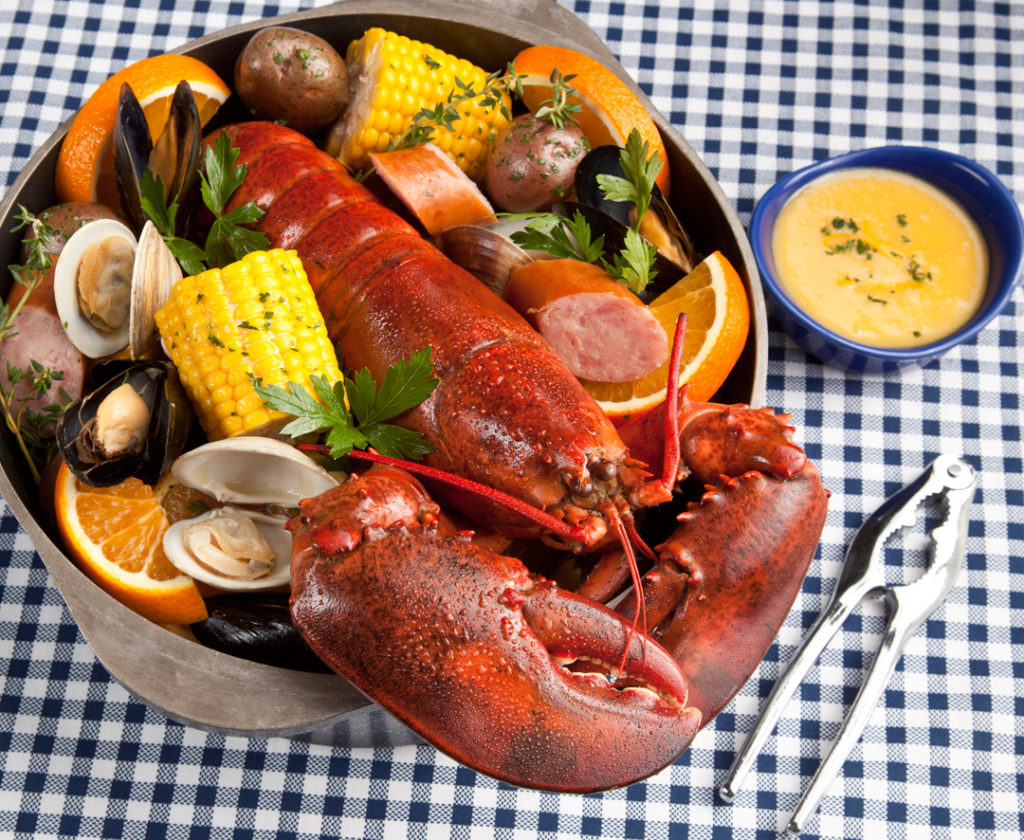 Florida OJ Lobster Boil with Orange Butter Sauce
Ingredients
For New England Lobster Boil:
3 cups Florida Orange Juice
3 lb. small red potatoes

1 tbsp. salt

6 Maine lobsters, 1 lb. each

2 lb. clams

2 lb. mussels

1 lb. smoked kielbasa sausage, cut into 1-inch pieces

3 ears sweet corn, cut in half

Old Bay Seasoning® to taste

3 lemons, sliced
18 oz. Pilsner beer

18 sheets cheesecloth, cut in 24-inch squares

Kitchen twine as needed
For Florida Orange Butter Sauce:
2 cups Florida Orange Juice

1 lb. cold unsalted butter, cubed
Salt to taste
Preparation
Florida OJ Lobster Boil with Orange Butter Sauce
1. Place potatoes in a medium-sized pot. Cover with cold water and add salt.
2. Bring to a simmer and cook for 15 to 20 minutes until potatoes are tender, but not completely cooked through.
3. Remove from heat and drain potatoes. Keep warm.
4. Place lobsters in the freezer for 15 to 20 minutes.
5. Spread a sheet of cheesecloth on the counter, then cover with two more sheets. Repeat to make 6 sections of cheesecloth.
6. Place one lobster on each section of cheesecloth. Divide clams, sausage, corn and potatoes among cheesecloth sections.
7. Season with Old Bay Seasoning® and place 2 lemon slices on top of each portion. Bring the corners of each cheesecloth section together to make a pouch. Tie each pouch with kitchen twine.
8. Place Florida Orange Juice and beer into a large stockpot with a steamer rack in the bottom.
9. Place the 6 pouches on top of the steamer rack, cover tightly and bring to a boil over high heat. Boil for 15 to 20 minutes.
10. Remove a pouch and check the lobster for doneness. If necessary, return to the pot for a few more minutes.
11. While pouches are steaming, place Florida Orange Juice in a medium-sized saucepan and bring to a simmer. Cook until reduced by half.
12. Slowly add butter pieces to Florida Orange Juice reduction, whisking constantly with a wire whisk, until all butter has been added. Season to taste with salt.
13. To serve, open the pouches and place the contents on plates. Serve with Florida Orange Butter Sauce for dipping and Old Bay Seasoning®.