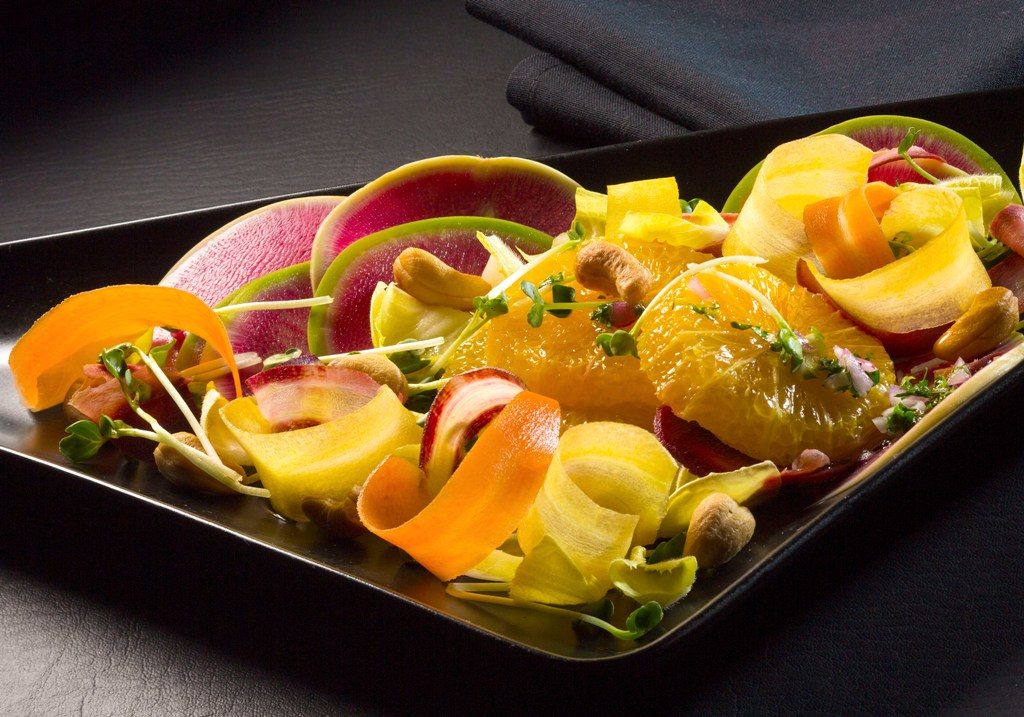 Florida OJ Pickled Vegetables with Toasted Cashew Vinaigrette
Ingredients
Nutrition Facts
Amount per serving
Calories
309.5
% Daily Value*

Total Carbohydrate

26.7g

10%
*The % Daily Value tells you how much a nutrient in a serving of food contributes to a daily diet. 2000 calories a day is used for general nutrition advice.
For Pickling Liquid:
2 cups Florida Orange Juice
1 cup water
¾ cup champagne vinegar
¼ cup sugar
3 tbsp. pickling spice
For Vegetables:
2 Florida Oranges, peeled and cut into ⅛-inch thick slices
4 purple carrots, peeled into thin ribbons
4 yellow carrots, peeled into thin ribbons
4 orange carrots, peeled into thin ribbons
4 watermelon radishes, thinly sliced
1 head endive, thinly sliced
1 pint daikon sprouts
For Toasted Cashew Vinaigrette:
2 cups cashews, toasted and coarsely chopped
¼ cup parsley, minced
1 shallot, minced
¼ cup champagne vinegar
3 tbsp. extra virgin olive oil
Salt and pepper to taste
Preparation
Florida OJ Pickled Vegetables with Toasted Cashew Vinaigrette
1. Place all Pickling Liquid ingredients in a saucepan and bring to a boil.
2. Blanch carrot ribbons in pickling liquid one color at a time for 12 seconds. After cooking, plunge ribbons in ice water, then place on paper towels. Repeat with remaining carrots.
3. Blanch radish slices in pickling liquid for 15 seconds, plunge in ice water, then place slices on paper towels.
4. Combine all Toasted Cashew Vinaigrette ingredients in a mixing bowl and toss to combine. Set aside.
5. Arrange carrot ribbons, radish slices, Florida Orange slices and endive on plates. Sprinkle with sprouts and spoon Toasted Cashew Vinaigrette on top.