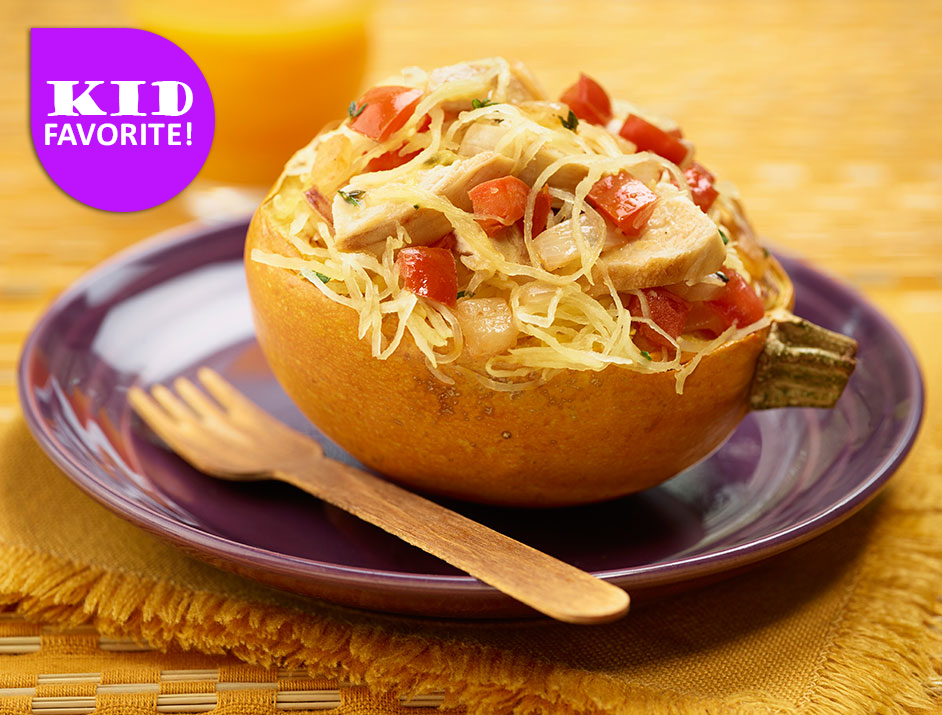 Florida OJ Spaghetti Squash Noodles with Chicken
Ingredients
Nutrition Facts
Amount per serving
Calories
651
% Daily Value*

Total Carbohydrate

85.5g

31%
*The % Daily Value tells you how much a nutrient in a serving of food contributes to a daily diet. 2000 calories a day is used for general nutrition advice.
1 cup Florida Orange Juice, divided

2 cups spaghetti squash

2 cups diced plum tomato

1 garlic clove, minced

½ yellow onion, diced

1 tsp. fresh thyme, minced

9 oz. sliced roasted chicken
Preparation
Florida OJ Spaghetti Squash Noodles with Chicken
1. Preheat oven to 375° F.
2. Slice the squash in half, lengthwise from tip to tip. Scoop out seeds with a spoon.
3. Lay squash halves on a sheet pan, cut side down. Pour half of the Florida Orange Juice onto the pan and place in oven.
4. Cook until tender when pierced with a knife, about 40 to 50 minutes.
5. In a large sauté pan over medium heat, add the tomatoes, garlic, onion, and thyme.
6. Cook until onions are soft and translucent, 5 to 8 minutes. Add remaining Florida Orange Juice. Reduce until liquid is almost gone, about 3 to 4 minutes.
7. Add sliced chicken and warm until internal temperature of 165° F has been reached.
8. Remove the squash from the oven and fork out the "spaghetti." Mix spaghetti squash and chicken mixture and serve in the squash shell.