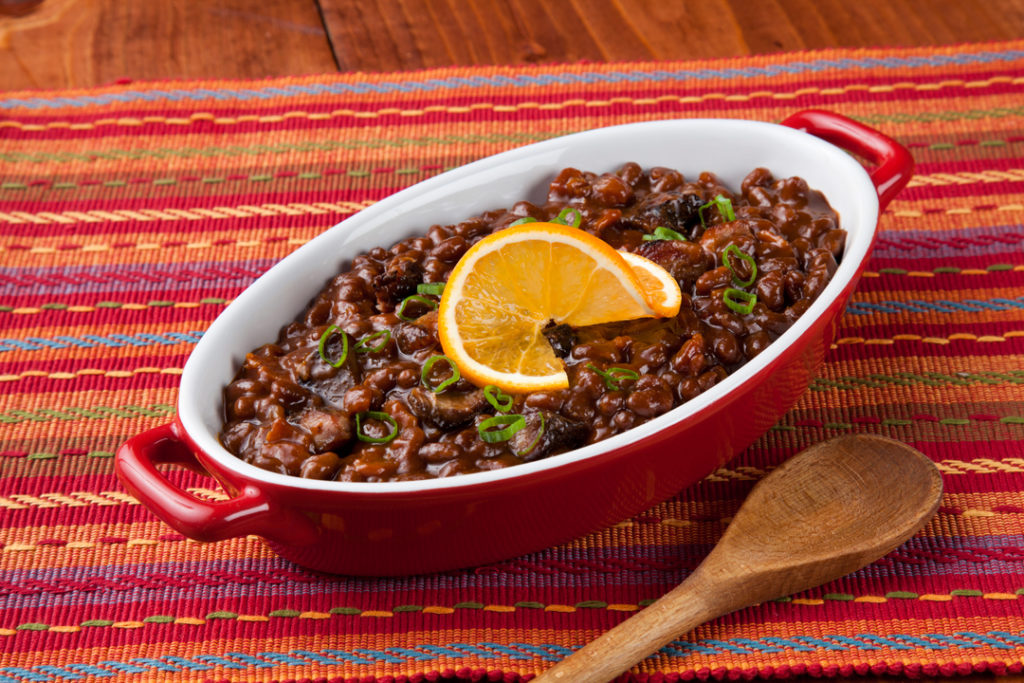 Florida Orange Molasses Baked Beans
Ingredients
1 ½ cups Florida Orange Juice

Florida Orange Slice, for garnish

1 tsp. Orange Zest, chopped
1 lb. dried Great Northern beans

1 tbsp. salt

2 tsp. baking powder

4 oz. bacon, cut into ½-inch pieces

2 cups yellow onion, diced

¾ cup ketchup

¼ cup molasses

2 tbsp. yellow mustard

2 tsp. Original TABASCO® brand Pepper Sauce

1 tsp. Worcestershire sauce

¼ cup brown sugar

2 tsp. onion powder

2 tsp. fresh ginger, grated
1 tsp. garlic powder

1 bay leaf

¼ tsp. ground cloves

Green onions, sliced, for garnish
Preparation
Florida Orange Molasses Baked Beans
1. Soak beans overnight in cold water. Drain water and place beans in large pot; fill pot with water.

2. Bring to a boil; simmer until beans are tender but not fully cooked, about 1 hour. Add salt and baking powder; continue to simmer until beans are tender, but not overcooked, about 10 minutes.

3. Drain beans and place in baking dish.

4. Preheat oven to 350° F. Sauté bacon and onions in saucepan until bacon is cooked and onions are tender.

5. Add Florida Orange Juice, ketchup, molasses, mustard, Tabasco, Worcestershire sauce, brown sugar, onion powder, ginger, Florida Orange Zest, garlic powder, bay leaf and cloves; bring to simmer.

6. Pour sauce over prepared beans. Cover and bake for 45 minutes; remove cover and bake additional 15 minutes. Remove bay leaf before serving

7. Garnish with Florida Orange Slice and sprinkle with green onions, if desired.
Nutrition Facts
Amount per serving
Calories
331
% Daily Value*

Total Carbohydrate

65.2g

24%
*The % Daily Value tells you how much a nutrient in a serving of food contributes to a daily diet. 2000 calories a day is used for general nutrition advice.