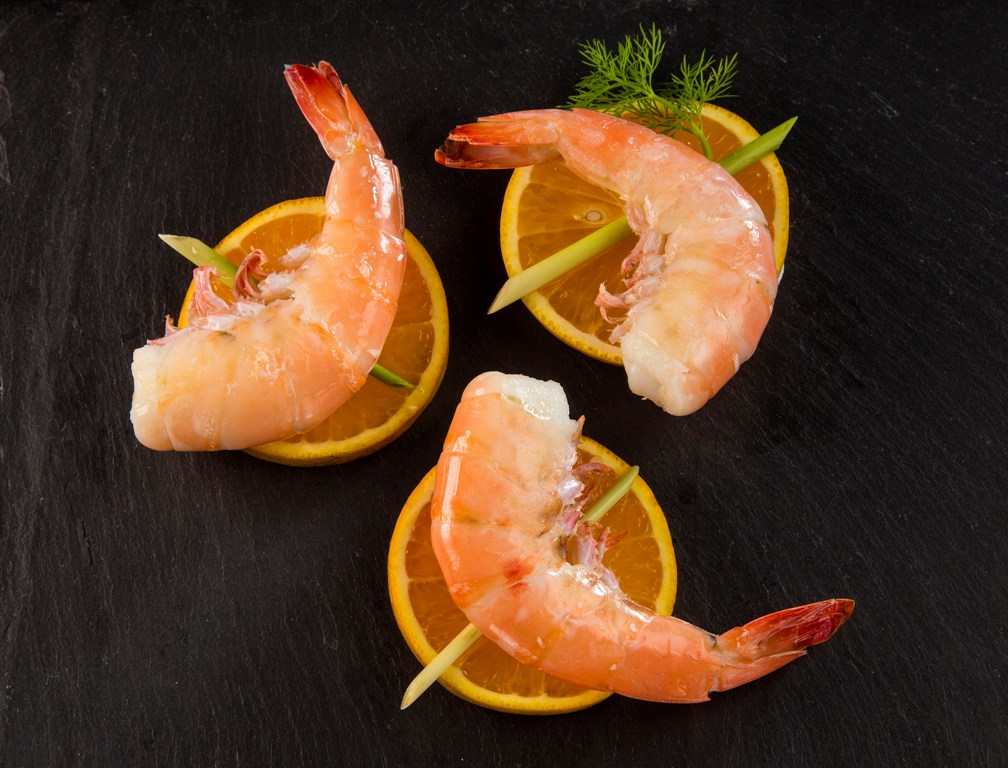 Florida Orange Salt Block Shrimp
Ingredients
Nutrition Facts
Amount per serving
Calories
167
% Daily Value*

Total Carbohydrate

24.4g

9%
*The % Daily Value tells you how much a nutrient in a serving of food contributes to a daily diet. 2000 calories a day is used for general nutrition advice.
1 ½ cups Florida Orange Juice
18 head-on shrimp, U-7
½ cup rice wine vinegar

½ cup sweet soy sauce

2 tbsp. sugar

1 bunch Thai basil, coarsely chopped

4 Thai chiles, seeded and minced

2 shallots, minced

1 stalk lemongrass, minced
For Garnish
18 Florida Orange slices

9 stalks lemongrass, cut in half

18 dill sprigs
Equipment
*Salt blocks can be purchased online.
Preparation
Florida Orange Salt Block Shrimp
1. Lay shrimp on their back and score the shell between legs with a paring knife.
2. Combine all other ingredients and place in a zipper-sealed plastic bag. Add shrimp to Florida Orange Juice mixture, seal tightly and refrigerate overnight.
3. Place salt blocks on oven rack and preheat oven to 350° F. Remove shrimp from Florida Orange Juice mixture.
4. Place shrimp on salt blocks and cook for 6 to 8 minutes or until done, turning once while cooking. Salt blocks will become very hot while cooking – handle with care.
5. Remove heads from shrimp.
6. Place Florida Orange slices on serving plates. Cut lemongrass stalks in half and skewer cooked shrimp with lemongrass. Garnish with dill sprigs if desired.