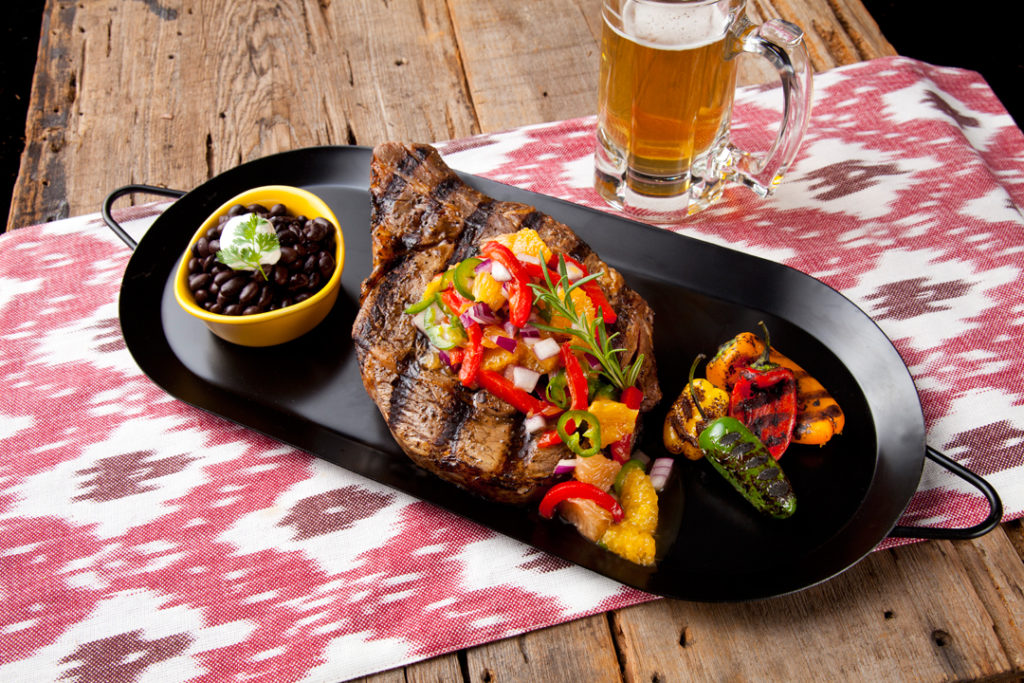 Grilled Cowboy Steaks with Florida Citrus Roasted Chile Salsa
Ingredients
2 cups Florida Orange Juice

2 tbsp. Worcestershire sauce

1 tbsp. chili powder

2 red bell peppers

2 yellow bell peppers

3 Anaheim chiles

2 poblano peppers

¾ cup Florida Orange segments, seeded

½ cup Florida Grapefruit segments, seeded

1 red onion, chopped

½ cup cilantro, chopped

3 tbsp. lime juice

3 tbsp. olive oil

1 tsp. Florida Orange zest

6 (12 to 16 oz.) bone-in ribeye steaks

Salt and pepper to taste
Preparation
Grilled Cowboy Steaks with Florida Citrus Roasted Chile Salsa
1. Combine Florida Orange Juice, Worcestershire sauce and chili powder in a bowl. Place steaks in a baking dish and pour Florida Orange Juice mixture over steaks. Allow steaks to marinate in the refrigerator for at least 30 minutes, up to 3 hours.
2. Preheat grill to medium-high heat.
3. Place bell peppers, Anaheim chiles and poblano peppers on the grill and cooke until charred on all sides.
4. Remove peppers and chiles to a bowl and cover with plastic wrap for 5 minutes. Remove charred skin and seeds from peppers and chiles, then coarsely chop.
5. In a bowl, combine Florida Orange segments, Florida Grapefruit segments, chopped peppers and chiles, onion, cilantro, lime juice, olive oil and Florida Orange zest and mix well. Set aside.
6. Season ribeye steaks with salt and pepper to taste. Grill over high heat to desired doneness.
7. Remove from grill and allow to rest for 3 to 4 minutes. Serve steaks with Florida Citrus Roasted Chile Salsa.