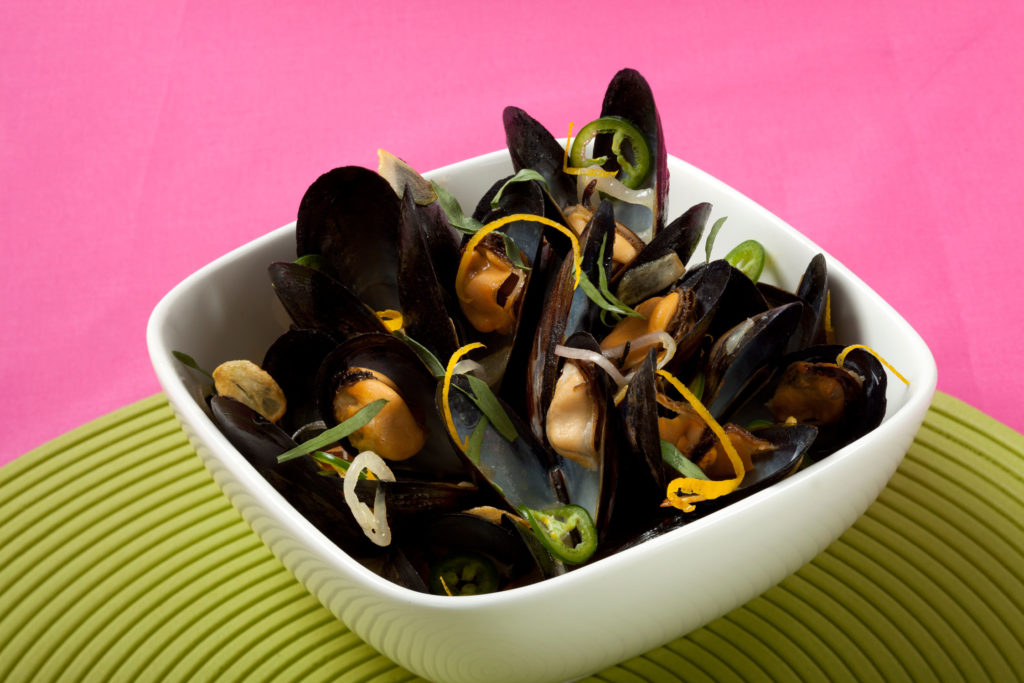 Orange and Beer Steamed Mussels
Ingredients
½ cup Florida Orange Juice
2 quarts olive oil

2 russet potatoes, peeled, cut into ¼-inch julienne

2 tbsp. olive oil

2 tbsp. shallots, minced

1 tbsp. garlic, minced

1 tsp. jalapeño pepper, seeded

3 lbs. mussels, cleaned
½ cup tomato, diced into ½-inch cubes

½ cup Pilsner beer

2 tbsp. lemon juice

Salt and pepper to taste

2 tbsp. butter

1 tbsp. fresh tarragon, chopped
Preparation
Orange and Beer Steamed Mussels
1. Pour olive oil into a large 6-quart stockpot and heat over medium-low heat until it reaches 375º F. Add potatoes and cook until golden brown and crispy. Remove from oil with a strainer and drain on paper towels. Season with salt to taste.
2. Preheat a large skillet over medium-high heat. Add olive oil and sauté shallots, garlic and jalapeño until aromatic. Add mussels, Florida Orange Juice, tomato, beer and lemon juice. Season with salt and pepper to taste. Cover skillet and cook until mussels open fully.
3. Remove from heat and discard any unopened mussels. Add butter and tarragon to mussels and toss until butter is melted. Serve in a large bowl with Olive Oil Frites on the side.