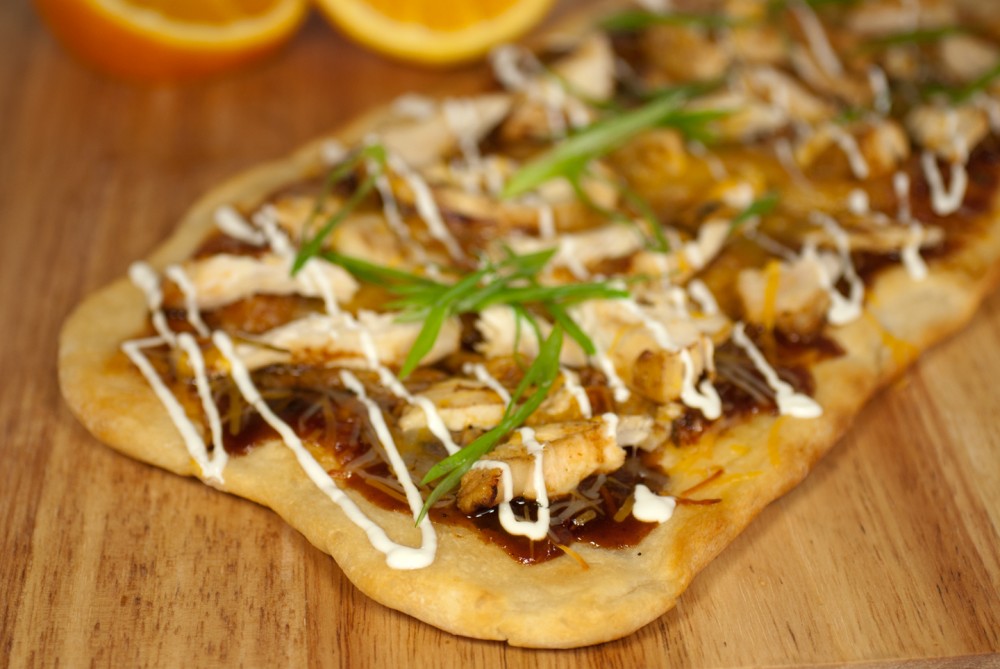 Orange BBQ Chicken Flatbread Pizza
Ingredients
2 cups Florida Orange Juice, divided
3 tbsp. olive oil, divided
3 garlic cloves, minced, divided
Salt and pepper to taste

2 boneless, skinless chicken breasts
½ cup yellow onion, finely diced
2 cups barbecue sauce, divided
8 oz. uncooked prepared pizza dough
All-purpose flour
1 cup shredded Monterey jack cheese
½ cup sour cream
½ cup cilantro, chopped
2 green onions, thinly sliced
Preparation
Orange BBQ Chicken Flatbread Pizza
1. In a large zipper-seal plastic bag, place 1 cup Florida Orange Juice, 2 tablespoon olive oil, half of the minced garlic and a dash of salt and pepper.
2. Add chicken, seal tightly and shake to combine ingredients. Marinate in the refrigerator for 15 to 20 minutes.
3. Remove chicken from marinade and discard marinade.
4. Grill chicken until fully cooked. Allow to cool then cut chicken into thin strips and set aside.
5. In a small saucepan, heat remaining tablespoon of olive oil over medium-high heat.
6. Add onions and sauté until soft. Add remaining minced garlic and Florida Orange Juice and simmer for 3 to 4 minutes. Whisk in ½ cup barbecue sauce and simmer for 5 minutes. Remove from heat and cool.
7. Preheat oven to 425° F.
8. Grease two baking sheets and dust work surface with flour. Divide pizza dough in half. Use a rolling pin to roll out half of the dough into a rectangular shape approximately ⅛-inch thick. Gently place dough onto one baking sheet and repeat with the other half of the dough.
9. Bake flatbread dough for 5 to 8 minutes, then flip over with a spatula or tongs and bake an additional 5 to 8 minutes.
10. Spread about ¾ cup barbecue sauce onto each flatbread. Divide chicken strips and cheese among flatbreads, then return to oven and bake for 15 minutes, or until the cheese is melted and the crust is golden. Remove flatbreads from oven and place on a cutting board and cool for about 4 to 6 minutes.
11. Garnish with dollops of sour cream and sprinkle with cilantro and green onions. Serve immediately.