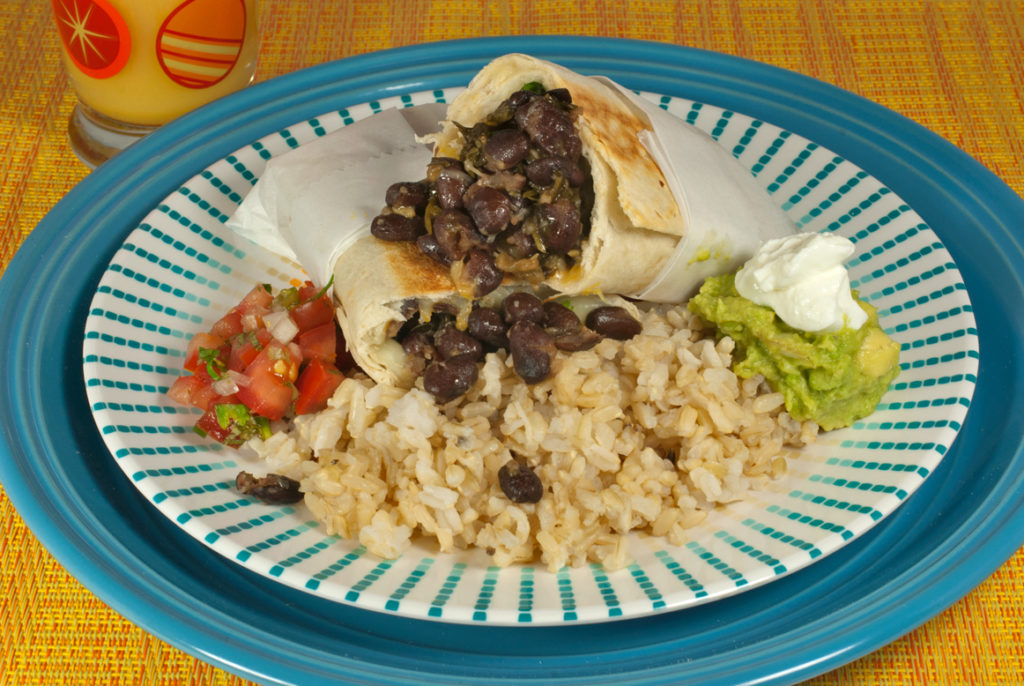 Orange Black Bean Burrito
Ingredients
½ cup Florida Orange Juice

1 tbsp. olive oil

½ cup yellow onion, diced

2 garlic cloves, minced

1 (8 to 10 oz.) can black beans, drained

1 tbsp. lime juice

1 tsp. brown sugar

1 tsp. chili powder

6 flour tortillas

1 cup shredded Monterey jack cheese

½ cup shredded mozzarella cheese

Iceberg or romaine lettuce, shredded

1 cup fresh cilantro, chopped

Salsa

Guacamole

Low fat sour cream or Greek yogurt
Preparation
Orange Black Bean Burrito
1. In a saucepan, heat olive oil over medium heat. Add onions and garlic and sauté for 3 to 4 minutes.
2. Add black beans, Florida Orange Juice, lime juice, brown sugar and chili powder and stir to combine. Simmer for 5 minutes, then remove from heat.
3. Heat a large nonstick skillet over medium-high heat.
4. Place tortillas on work surface and sprinkle evenly with shredded cheeses. Top each tortilla with ½ cup of the bean mixture, shredded lettuce and cilantro.
5. Fold two sides in, then fold over the front edge and roll up and place flap side down into the hot pan.
6. Cook for 2 to 3 minutes on each side until golden brown and slightly crispy. Remove from the pan and cut in half on the diagonal. Serve immediately with salsa, guacamole and sour cream.