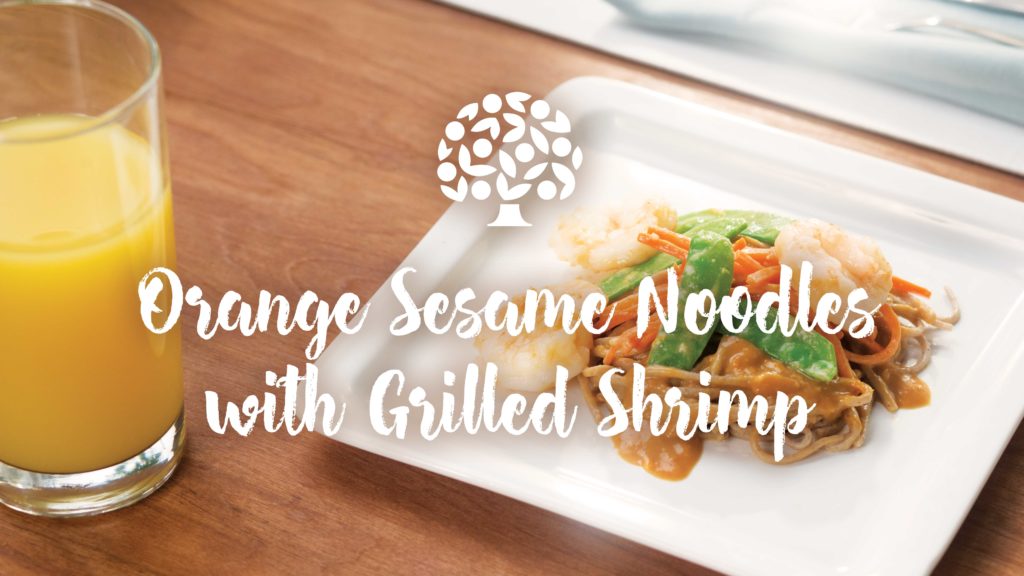 Orange Sesame Noodles with Grilled Shrimp
Our Orange Sesame Noodles with Grilled Shrimp is a fun dinner option that is an excellent source of vitamin A, which is needed for immune system function, skin health and vision. Try this recipe to add variety and a little spice to your daily menu.
Ingredients
Nutrition Facts
Amount per serving
Calories
445
% Daily Value*
*The % Daily Value tells you how much a nutrient in a serving of food contributes to a daily diet. 2000 calories a day is used for general nutrition advice.
¼ cup Florida Orange Juice
3 tbsp. Tamari or soy sauce
3 tbsp. peanut butter
2 tbsp. toasted sesame oil
2 tsp. freshly grated ginger
¼ tsp. ground cayenne pepper
10 oz. soba noodles or spaghetti
1 cup snow peas
1 carrot, cut into matchsticks
1 ½ lbs. large shrimp, peeled and deveined
1 tbsp. toasted sesame oil
Preparation
1. Combine the Florida Orange Juice, Tamari or soy sauce, peanut butter, two tablespoons of toasted sesame oil, ginger and cayenne pepper in a large bowl. Set aside.

2. Boil the noodles according to package directions. Before draining, add the snow peas and the carrot. Let cook for 30 seconds.

3. Drain the pasta, peas and carrots and toss immediately with the Florida Orange Juice mixture. Set aside.

4. Brush the shrimp with one tablespoon toasted sesame oil and pan-fry over medium-high heat for 3 to 5 minutes.

5. Arrange the pasta on serving plates and top with shrimp.