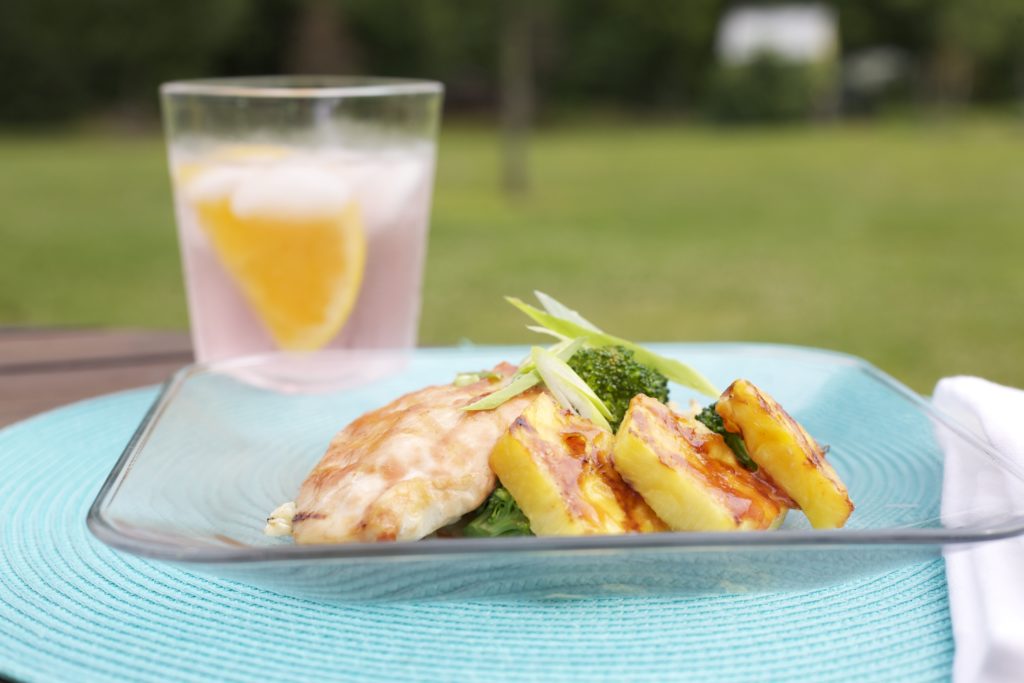 Orange Sweet And Sour Chicken With Vegetable Fried Rice
Ingredients
1 cup Florida Orange Juice

2 cups sweet and sour sauce

1/2 cup yellow onion, diced

2 garlic cloves, minced

4 large boneless, skinless chicken breasts

2 tablespoons vegetable oil

1 head broccoli, cut into small florets

1 cup frozen green peas

2 carrots, cut into thin strips

3 cups cooked brown rice

2 tablespoons soy sauce

½ cup fresh cilantro, chopped

3 green onions, thinly sliced
Preparation
1. In saucepan, combine sweet and sour sauce, orange juice, onion and garlic; bring to a boil and simmer over medium heat for 5 minutes. Reserve.

2. Cut chicken breasts in half lengthwise. Grill over high heat for 4 to 8 minutes on each side, depending on thickness, until thoroughly cooked.

3. Baste with sweet and sour sauce during last 5 minutes of cooking.

4. Grill until internal temperature is 160° F. on thermometer. Keep warm.

5. In wok, heat vegetable oil. Carefully add broccoli, peas and carrots; cook while stirring constantly for about 5 minutes or until vegetables are tender crisp. Add rice; stir with wooden spoon to combine all ingredients.  Add soy sauce; stir until all ingredients are coated.

6. Serve chicken with Vegetable-Fried Rice. Sprinkle with cilantro and green onions; serve immediately.