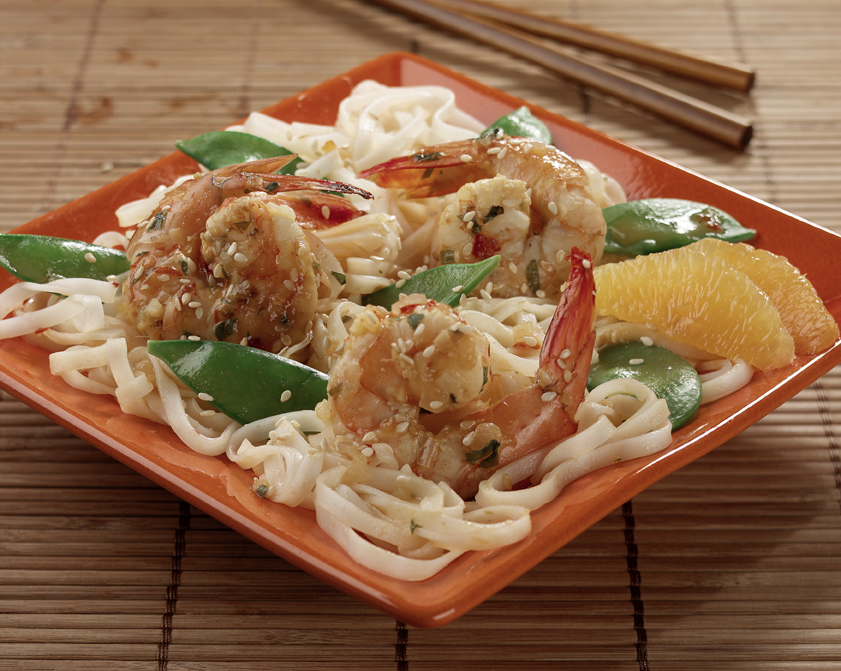 Orange Tarragon Ginger Shrimp with Rice Noodles
Ingredients
1 cup Florida Orange Juice

12 jumbo shrimp, peeled and deveined

2 tbsp. fresh tarragon, finely chopped

1 tbsp. olive oil

1 tbsp. fresh ginger, finely chopped

1 shallot, finely chopped

1 (8 oz.) package rice noodles

1 tbsp. sesame oil

Nonstick cooking spray

2 cups fresh snow peas

1 tbsp. toasted sesame seeds

1 tbsp. Asian hot chili sauce, optional
Preparation
Orange Tarragon Ginger Shrimp with Rice Noodles
1. Combine Florida Orange Juice, shrimp, tarragon, olive oil, ginger and shallot in a zipper-seal plastic bag. Seal bag securely and toss gently to combine ingredients. Marinate for 1 hour in the refrigerator.
2. Prepare rice noodles according to package directions. Drain and combine with sesame oil. Toss to coat evenly and set aside.
3. Spray a wok with nonstick cooking spray and heat over medium heat.
4. Drain shrimp mixture. Reserve ½ cup marinade and discard remaining marinade.
5. Add shrimp and reserved ½ cup of marinade to wok and bring to a boil. Stir fry shrimp for 1 to 2 minutes.
6. Add snow peas and stir fry for 3 more minutes, just until snow peas are tender crisp and shrimp is cooked through. Add sesame seeds and chili sauce, if desired.
7. Remove from heat and add reserved rice noodles. Toss to combine and serve immediately.