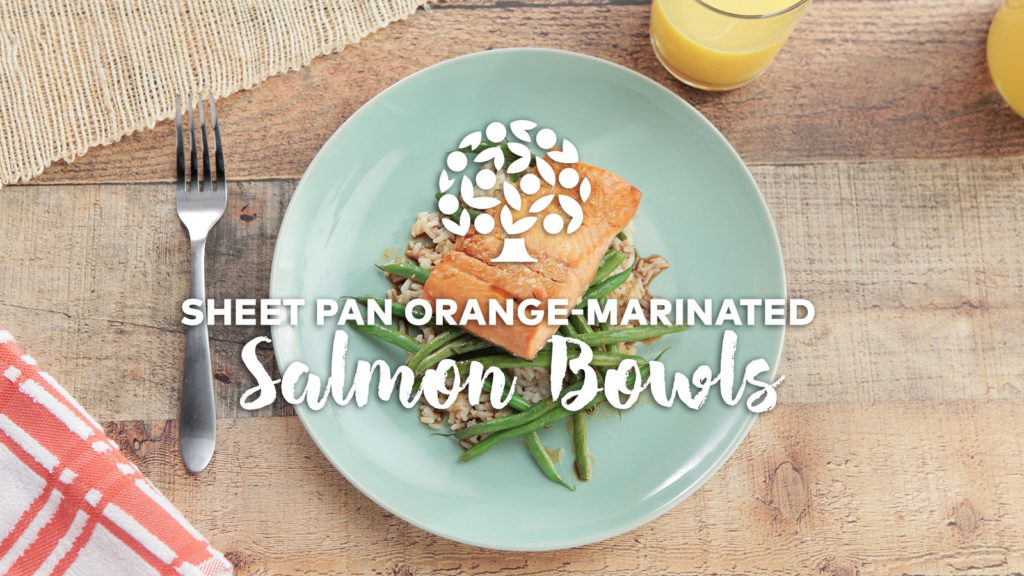 Sheet Pan Orange-Marinated Salmon Bowls
Nutrition Facts
Amount per serving
Calories
265
% Daily Value*

Total Carbohydrate

11.92g

4%
*The % Daily Value tells you how much a nutrient in a serving of food contributes to a daily diet. 2000 calories a day is used for general nutrition advice.
Ingredients
For the Sauce:
⅓ cup Florida Orange Juice
⅓ cup coconut aminos (or tamari)
1 tsp. minced garlic
1 tsp. finely grated ginger
1 tbsp. olive or avocado oil
½ tsp. kosher salt
For the Salmon Bowls:
1 lb. salmon
1 lb. green beans
1 tbsp. olive or avocado oil
¼ tsp. kosher salt
Preparation
| Prep Time | Cook Time | Total Time |
| --- | --- | --- |
| 40 minutes | 20 minutes | 1 hour |
Sheet Pan Orange-Marinated Salmon Bowls
1. Preheat the oven to 400° F.

2. Make the sauce by whisking the Florida Orange Juice, coconut aminos, garlic, ginger, oil and salt in a medium bowl until well combined.

3. Pour ⅓ cup sauce into a shallow dish. Add the salmon, flesh-side down and marinate for up to 30 minutes.

4. Place the green beans on a foil rimmed sheet pan. Pour 1 tablespoon of oil over the green beans and sprinkle with ⅓ teaspoon salt.

5. Remove the salmon from the marinade and add the salmon to the sheet pan, placing between the green beans. Pour the remaining marinade over the salmon.

6. Place sheet pan in oven and roast for up to 20 minutes, depending on the thickness of the salmon, until the salmon is cooked through.

7. Remove from the oven, dividing the salmon and green beans between 4 bowls.

8. Serve over mixed greens, quinoa or brown rice. Add any of your favorite toppings and serve with the remaining sauce.
Helpful Tips:
If you're short on time, skip marinating the salmon and pour the sauce directly on the salmon before roasting.
Mix it up and replace the green beans with broccoli or cauliflower florets.
Try adding some of your favorite add-ins like sliced cucumbers, sliced red cabbage, cilantro, sesame seeds, nori sheets or pickled ginger.
This recipe is gluten-free, dairy-free, soy-free, nut-free, egg-free, grain-free, paleo, and Whole30 friendly.