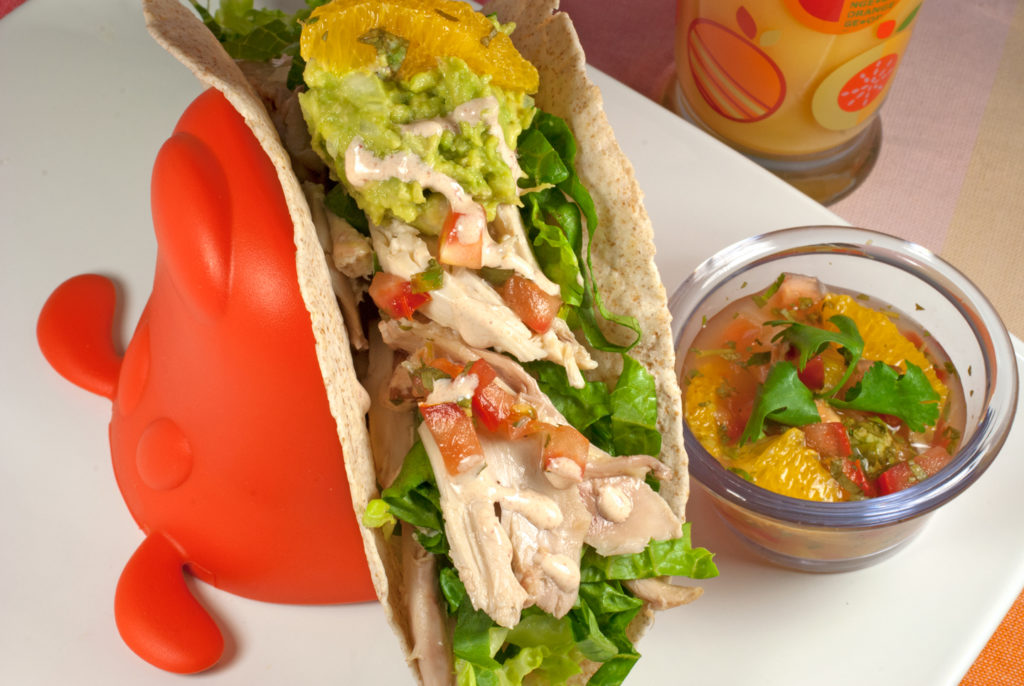 Shredded Chicken Tacos with Orange Chipotle Sauce and Zesty Salsa
Ingredients
½ cup plus 1 tablespoon Florida Orange Juice, divided
2 bone–in chicken breasts
2 chipotle chiles in adobo sauce
1 cup sour cream
2 ripe tomatoes, diced
1 Florida orange, segmented, chopped, seeded
½ cup fresh cilantro, chopped
¼ cup white onion, diced
½ jalapeño, diced
Juice of 1 lime
1 tablespoon white vinegar
Salt
Pepper
6 (6-inch) flour tortillas
Shredded Romaine or iceberg lettuce
Preparation
1. Place chicken breasts in saucepan; cover with water.

2. Add ½ cup orange juice; bring to a boil.

3. Reduce heat; simmer for 25 minutes or until chicken is thoroughly cooked.

4. Remove chicken; cool.

5. Remove cooked chicken; discard skin and bones.

6. Shred chicken; reserve.

7. In food processor, place chipotle peppers and remaining 1 tablespoon orange juice. Pulse 3 to 5 times to break up peppers. Add sour cream and pulse to combine. Refrigerate until ready to use.

8. In mixing bowl, combine tomato, orange segments, cilantro, onion, jalapeño pepper, lime juice and white vinegar. Season to taste with salt and pepper; reserve.

9. Heat large frying pan over medium-high heat.

10. Carefully toast tortillas one at a time in dry pan for about 3 minutes per side, using tongs to move tortilla around in small circles so it does not burn. Keep tortillas warm.

11. Fill toasted tortillas with shredded chicken and lettuce. Top with Orange-Chipotle Sauce and Zesty Salsa; serve immediately.