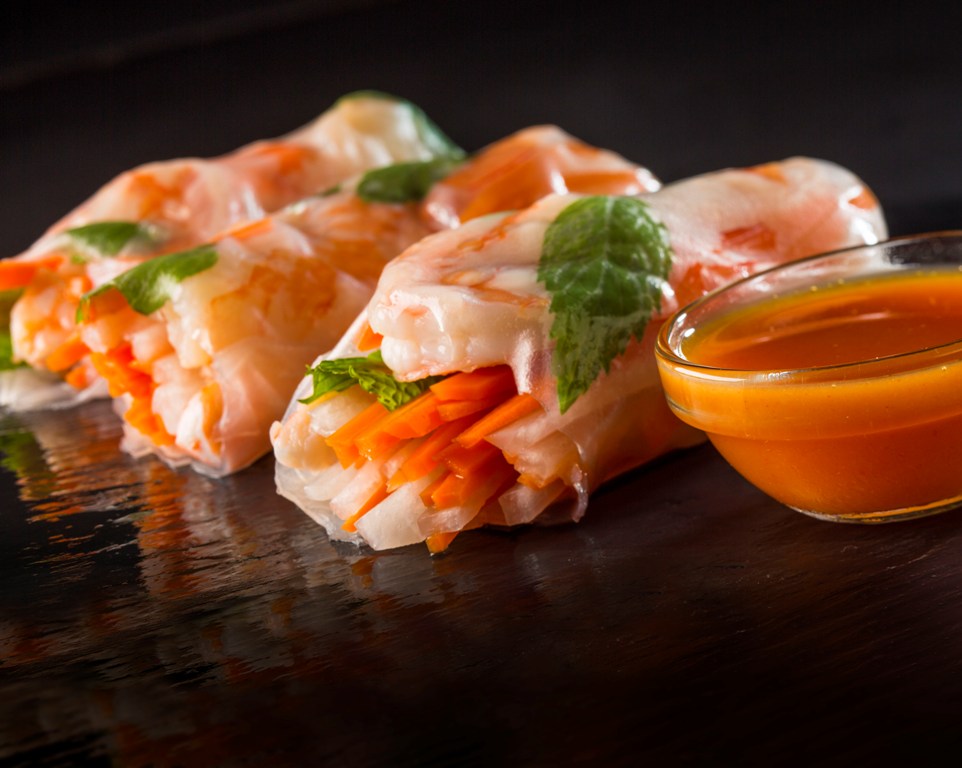 Shrimp Summer Rolls with Florida OJ Sriracha Sauce
Ingredients
2 cups Florida Orange Juice

2 tbsp. fresh ginger, julienned

1 cup daikon radish, julienned

1 cup carrot, julienned

1 ½ lb. (16-20 count) shrimp

6 summer roll wrappers

1 bunch mint, leaves removed

2 tbsp. sriracha
Preparation
Shrimp Summer Rolls with Florida OJ Sriracha Sauce
1. Combine Florida Orange Juice and ginger in small saucepan and bring to a boil. Cook over medium heat until reduced to one-half volume.
2. Place radish and carrot in Florida Orange Juice mixture and blanch for 20 seconds. Remove ginger, radish and carrot and place in ice water bath; drain on paper towels.
3. Cool Florida Orange Juice mixture and reserve.
4. Bring 8-quart pot of water to a boil. Peel and devein shrimp, then slice in half lengthwise.
5. Add shrimp to boiling water and cook for approximately 4 minutes or until cooked through and pink. Remove shrimp from boiling water and place in ice water bath.
6. Place summer roll wrappers in medium bowl and cover with cold water to soften.
7. Place one summer roll wrapper on a cutting board. Place four shrimp halves in single line along middle of wrapper and top with a small amount of ginger, carrot, radish and mint.
8. Fold in both ends of summer roll wrapper, then fold in one side and roll up. Repeat with remaining wrappers. Cut summer rolls in half on the bias, if desired.
9. Add sriracha to Florida Orange Juice reduction and stir. Serve with Florida Orange-Sriracha Dipping Sauce.