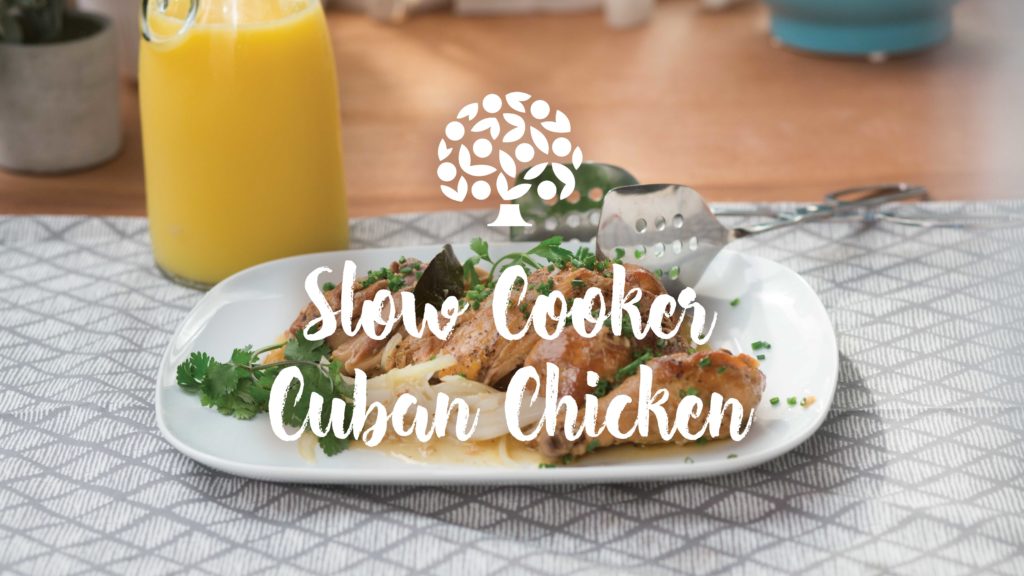 Slow Cooker Cuban Chicken Recipe
An excellent source of protein and a good source of zinc, our Slow Cooker Cuban Chicken is a delicious dinner made with Florida Orange Juice. The protein and zinc may support immune and nervous system functions and the garlic adds amazing flavor to a simple weeknight meal.
Nutrition Facts
Amount per serving
Calories
275.7
% Daily Value*

Total Carbohydrate

8.1g

3%
*The % Daily Value tells you how much a nutrient in a serving of food contributes to a daily diet. 2000 calories a day is used for general nutrition advice.
Ingredients
¾ cup Florida Orange Juice
1 whole chicken (about 4 lbs.)
3 tbsp. olive oil
8 cloves garlic, coarsely chopped
¾ cup lime juice (about 5 limes)
1 fresh bay leaf
1 yellow onion, thinly sliced
Preparation
Prep Time
Cook Time
Total Time

30 minutes

2 hours

30 minutes

3 hours
1. Season the chicken pieces with salt and pepper.

2. In a multi-function pot on medium-high heat, warm the oil.

3. Add the chicken pieces (in batches if necessary) skin side down and cook until golden brown on the bottom, about 7 minutes. Turn the chicken and cook the second side until lightly browned, about 3 minutes. Transfer all browned chicken aside.

4. Pour out all but about one tablespoon of fat from the multi-function pot and return to medium-high heat.

5. Add the onions and sauté until just barely golden brown.

6. Add the garlic to the onions and sauté for a couple of more minutes until the onions are golden and the garlic is fragrant.

7. Pour in the Florida Orange Juice and lime juices. Raise the heat to high, bring to a boil and deglaze the multi-function pot, stirring to scrape up the browned bits on the bottom.

8. Add the chicken and bay leaf to the slow cooker and sprinkle with one teaspoon of salt. 
Cover and cook on the high heat slow cooker setting for 2 ½ hours or the low heat slow cooker setting for 5 hours.

9. Remove and discard the bay leaf and transfer the chicken to a serving dish.

10. Season the sauce to taste with the salt and a generous amount of pepper. Spoon the onions and sauce over the chicken.