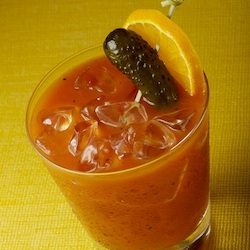 Sunrise Orange Bloody Mary
Ingredients
Nutrition Facts
Amount per serving
Calories
329
% Daily Value*

Total Carbohydrate

48.8g

18%
*The % Daily Value tells you how much a nutrient in a serving of food contributes to a daily diet. 2000 calories a day is used for general nutrition advice.
4 oz. Florida Orange Juice

1 ½ oz. Worcestershire sauce

2 tbsp. fresh cracked pepper

½ oz. lemon juice

1 tsp. TABASCO® Pepper Sauce

1 tbsp. salt

¼ oz. fresh horseradish

1 ½ oz. pickle brine

24 oz. tomato purée* or organic tomato juice

½ oz. Florida Grapefruit Juice or Florida Orange Juice
1 ½ oz. vodka

2 dashes celery bitters or a pinch of celery salt
Garnish:
Florida Orange wheel
Sweet gherkin pickle
*Purée 1 can of high quality canned tomatoes in a blender.
Preparation
Sunrise Orange Bloody Mary
1. In a one-quart container, add first 8 ingredients.
2. Top off with tomato purée from canned tomatoes or organic tomato juice.
3. Stir. Keep refrigerated for one week or freeze.
4. When serving, add Florida Grapefruit Juice or Orange Juice, vodka and celery bitters or celery salt to the mix in a highball glass.
5. Garnish with Florida Orange wheel and pickle.