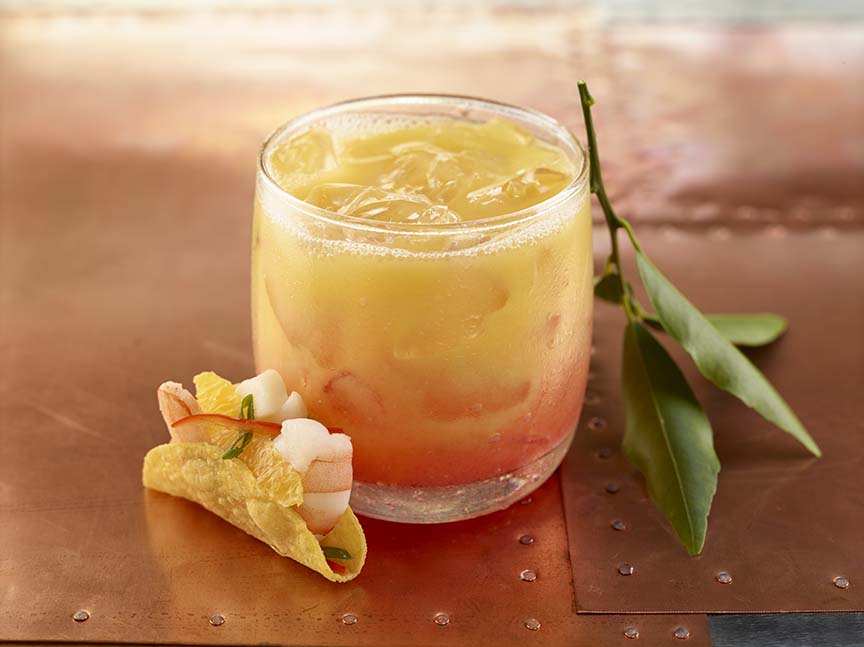 Tequila Sunrise with Crispy Ceviche Taco
Ingredients
12 oz. Florida Orange Juice

8 oz. tequila

8 drops grenadine syrup

4 highball glasses
For the Taco:
4 Florida Orange segments
4 poached shrimp, sliced in half lengthwise
1 scallop, sliced thinly
Red bell pepper, sliced thinly
1 tbsp. green onion, minced
¼ tsp. lime juice
1 tbsp. simple syrup
4 mini corn tortilla taco shells
Preparation
Tequila Sunrise with Crispy Ceviche Taco
1. Divide the Florida Orange Juice evenly among the glasses, followed by the tequila. Add 2 drops of grenadine to each glass.
2. Combine all of the taco ingredients except the taco shells.
3. Allow taco mixture to sit in the refrigerator for 3 hours prior to serving.
4. Evenly portion the ceviche into each taco shell. Serve immediately.