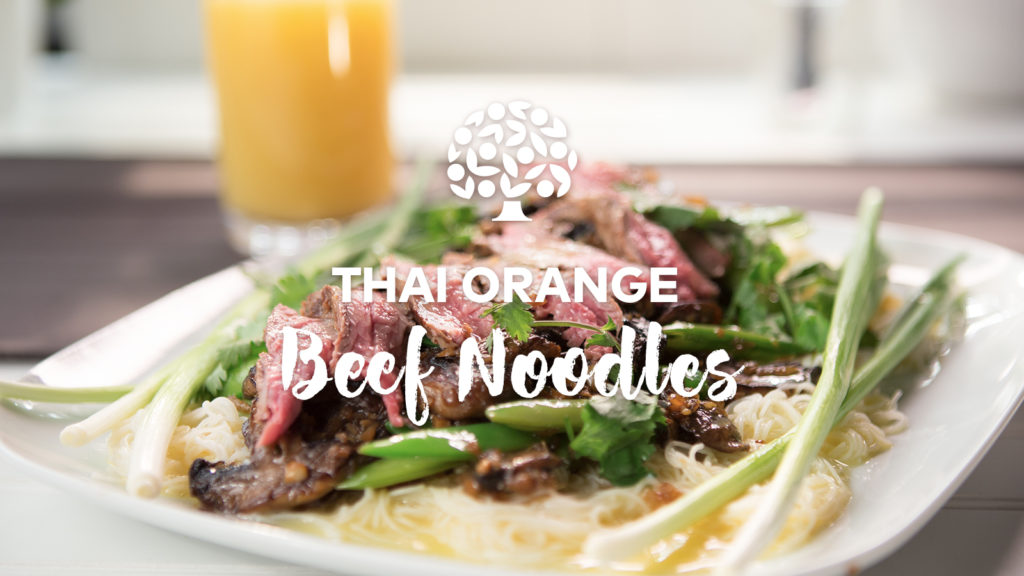 Ingredients
For Marinade:
1 cup Florida Orange Juice
3 cloves garlic, chopped
½ cup sliced fresh ginger
½ cup soy sauce
¼ cup olive oil
¼ cup rice vinegar or white wine vinegar
For Beef and Noodles:
2 flank steaks

4 cups Florida Orange Juice

1 pound rice noodles

Oil

1 cup red onion or shallot, sliced

8 cloves garlic, minced

3 tbsp. minced ginger

1 lb. sliced mushrooms

1 lb. snow peas or sugar snap peas

1 bunch chopped fresh cilantro

⅓ cup chopped fresh mint
¼ cup soy sauce or fish sauce

1 tsp. Thai chile or serrano chile, seeded and minced
1 bunch green onions, chopped, for garnish
Preparation
Thai Orange Beef Noodles
1. Combine all ingredients for the marinade and reserve ½ cup.

2. Pour marinade over flank steaks, cover and refrigerate for at least 3 hours.
3. Remove steaks from marinade and discard marinade.
4. Grill steaks to medium doneness. Remove from heat and let stand.
5. Bring Florida Orange Juice to a boil in a saucepan. Remove from heat and add rice noodles. Let stand for 15 minutes, drain and reserve.
6. In a large wok over medium-high heat, add just enough oil to coat the pan. Add onion and cook until deep golden brown.
7. Add garlic and ginger and sauté for 1 minute, being careful not to burn garlic.
8. Add mushrooms, snow peas, cilantro, mint, soy sauce and Thai chile and sauté until vegetables are tender crisp.
9. Add reserved noodles and toss to combine until heated through. Thinly slice flank steak against the grain. Garnish with green onions and serve immediately.