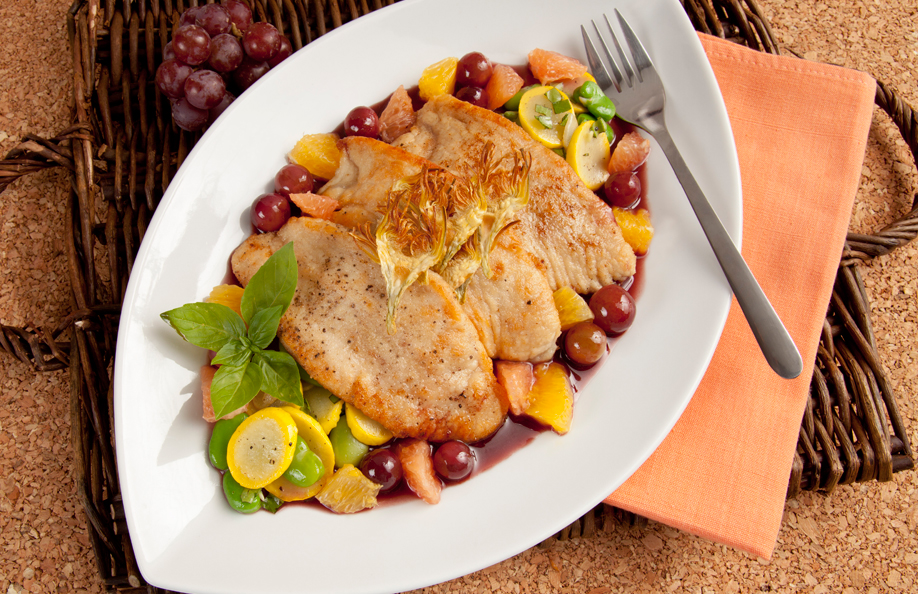 Turkey Scaloppini Recipe With Florida Orange–napa Valley Cabernet Sauvignon Sauce
Ingredients
½ cup Florida Orange Juice, divided
12 (2-ounce) turkey breast cutlets

Salt to taste

Pepper to taste

2 cups flour

5 tablespoons olive oil, divided

1 tablespoon garlic, thinly sliced

3 cups yellow zucchini, cut into ½-inch slices*

1 ½ cups fava beans, blanched, skins removed**

1 cup red grapes, whole

3 tablespoons basil, fresh, chopped
½ cup Napa Valley Cabernet Sauvignon

1 tablespoon butter
*Green zucchini or yellow summer squash can be substituted.
**Fresh peas can be substituted.
Preparation
1. Place large piece of plastic wrap on counter. Lay out turkey breast cutlets with space between each of them; cover with second piece of plastic wrap.
2. Use mallet to pound cutlets to ¼-inch thickness. Season cutlets with salt and pepper; dredge in flour and shake off any excess. Reserve cutlets.

3. Heat medium skillet over medium heat. Add 1 tablespoon olive oil and garlic; cook until garlic begins to brown lightly.
4. Add zucchini; sauté for 4 to 5 minutes over medium heat, or until tender.
5. Add fava beans, grapes and basil. Stir in 2 tablespoons orange juice;  remove from heat. Reserve and keep warm.

6. Heat large skillet over medium-high heat. Add 2 tablespoons olive oil to pan and heat until shimmering. Add 6 turkey cutlets to pan; brown on both sides. Repeat process with remaining cutlets or use 2 skillets. Remove cutlets from pan; reserve and keep warm.
7. Add wine to skillet used to cook turkey cutlets; cook for 2 to 3 minutes. Add remaining 2 tablespoons orange juice; simmer until reduced to one-half the original volume. Add butter; swirl pan until butter is melted and incorporated into sauce.
8. Return cutlets to skillet with sauce; heat over low heat for 2 to 3 minutes.

9. To serve, place spoonful of vegetable mixture in center of serving plate.
10. Place 2 scaloppini on top; spoon Florida Orange–Napa Valley Cabernet Sauvignon Sauce
on top.