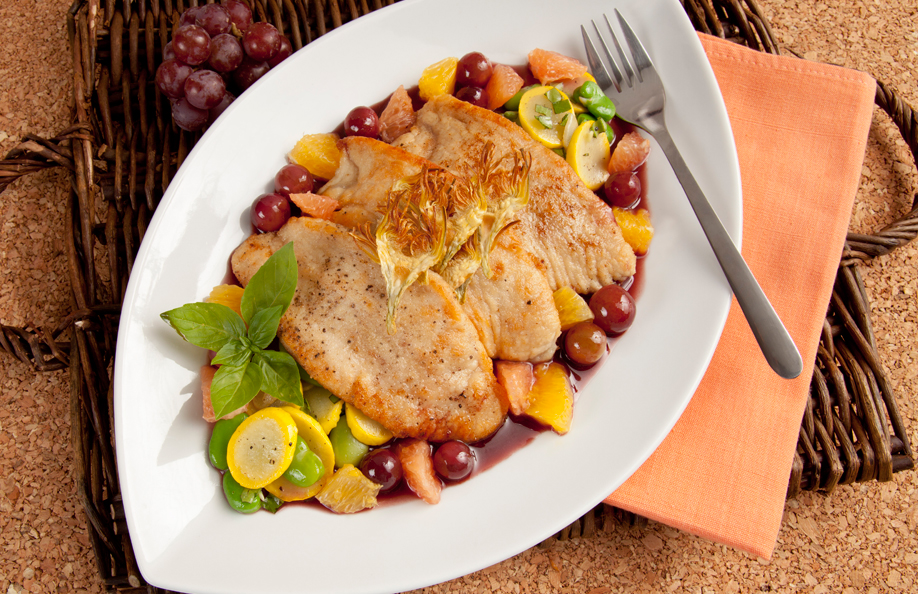 Turkey Scaloppini with Florida Orange Cabernet Sauvignon Sauce
Ingredients
½ cup Florida Orange Juice, divided
12 (2 oz.) turkey breast cutlets

Salt and pepper to taste
2 cups flour

5 tbsp. olive oil, divided

1 tbsp. garlic, thinly sliced

3 cups yellow zucchini, cut into ½-inch slices*

1 ½ cups fava beans, blanched with skins removed**

1 cup red grapes

3 tbsp. fresh basil, chopped
½ cup Napa Valley Cabernet Sauvignon

1 tbsp. butter
*Green zucchini or yellow summer squash can be substituted.
**Fresh peas can be substituted.
Preparation
Turkey Scaloppini with Florida Orange Cabernet Sauvignon Sauce
1. Place a large piece of plastic wrap on counter. Lay out turkey breast cutlets with space between each of them, then cover with a second piece of plastic wrap.
2. Use a mallet to pound cutlets to ¼-inch thickness. Season cutlets with salt and pepper, dredge in flour and shake off any excess. Set cutlets aside.
3. Heat a skillet over medium heat. Add 1 tablespoon olive oil and garlic and cook until garlic begins to brown lightly.
4. Add zucchini and sauté for 4 to 5 minutes or until tender.
5. Add fava beans, grapes and basil. Stir in 2 tablespoons Florida Orange Juice, then remove from heat. Set aside and keep warm.
6. Heat a large skillet over medium-high heat. Add 2 tablespoons of olive oil and heat until shimmering. Add 6 turkey cutlets to pan and cook until brown on both sides.
7. Repeat process with remaining cutlets or use 2 skillets. Remove cutlets from pan, set aside and keep warm.
8. Add wine to the skillet used to cook turkey cutlets and cook for 2 to 3 minutes. Add remaining 2 tablespoons of Florida Orange Juice and simmer until reduced by half. Add butter and swirl the pan until butter is melted and incorporated into sauce.
9. Return cutlets to skillet with Florida Orange sauce and heat over low heat for 2 to 3 minutes.
10. To serve, place a spoonful of vegetable mixture in the center of a serving plate.
11. Place 2 pieces of turkey on top of vegetables and drizzle Florida Orange Cabernet Sauvignon Sauce on top.