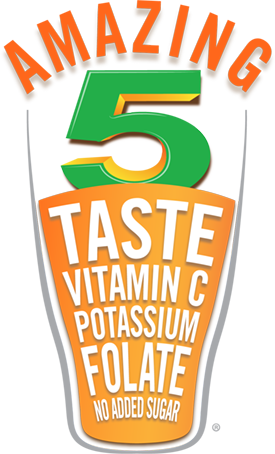 The delicious and unique flavor of Florida OJ is often imitated but never duplicated: sweet, refreshing, empowering - utterly amazing.

Florida OJ is an excellent source of vitamin C, which is important for the formation of collagen (a component of bones, gums and cartilage).

Florida OJ is a good source of potassium. Important for muscle function, potassium also plays a role in nerve transmission and helps maintain the body's fluid, electrolyte and pH balance.

Florida OJ is a good source of folate, a water-soluble B vitamin essential for cell division and healthy red blood cells.

Florida OJ contains no added sugar. The delicious taste of Florida OJ is courtesy of nature's goodness.
The Amazing Feed
news
videos
twitter
everything
news
videos
twitter
everything
A glass of Florida OJ keeps your skin hydrated while providing nutrients such as vitamin C and carotenoids, helping

https://t.co/CiWgN9lHpe

Florida Orange Juice is a naturally nutrient-rich beverage that may help support heart health, bone health, your im

https://t.co/xvSsu3BWPY

Florida Citrus Growers work hard every day to grow the Florida Oranges used to bring Florida Orange Juice to the ta

https://t.co/Xdok4FVFkP

Hey

@RobinRoberts,

we saw you were enjoying a glass of Florida Orange Juice on

@GMA

this morning and we have one question. Pulp or no pulp?

Florida Orange Juice provides a variety of health benefits that may help play a role in a healthier lifestyle. Enjo

https://t.co/dmx2tN9pFV

One 8-ounce glass of fortified orange juice contains 50% of the daily recommended value of calcium that may help su

https://t.co/nPjlXX3Te6

Balancing busy schedules over spring break? Try one of our Kid-Friendly Recipes with Florida OJ for an easy lunch o

https://t.co/4qSgs4yr4C

Florida OJ is packed with beneficial vitamins and nutrients that align with a healthy lifestyle. With no added suga

https://t.co/Igbr8LXHnW

Enjoy our Florida Orange Juice Mocktail during spring break for a fun and easy beverage with the great taste of Flo

https://t.co/UTwPgdoenU

Our Orange Honey Glazed Carrots made with the great taste of Florida OJ will have your little ones eating all of th

https://t.co/SxaGX90Uu9

Our Steak with Citrus Marinade is a simple dinner to add into your recipe rotation. Florida Orange Juice also adds

https://t.co/Pc5gLUaz4s

Florida Orange Juice is the Official Drink of Spring Break! Enjoy Florida OJ while taking some time off for a refr

https://t.co/1gjMDnL9yj

Florida OJ is high in vitamin C, which may help to improve the amount of iron absorbed from foods.

https://t.co/BH0yqZjE9v
Meet Grower
John Barben
Question
Where can I find information on touring a citrus grove?
Answer
For a complete list of Florida citrus groves offering public tours, please visit the following page. Click Here
Question
How much juice or fruit will a medium-sized Florida orange yield?
Answer
Medium oranges are ideal for wedging and juicing. Three or four medium oranges will yield 8 ounces of juice. Two medium oranges will yield approximately one cup.
Question
What citrus products are primarily grown in Florida?
Answer
Florida growers produce several types of citrus, including oranges, grapefruit and specialty fruit including Temple oranges, tangerines and tangelos.
Read More
Question
What is the history of Citrus?
Answer
Citrus arrived in America in the early 1500s but wasn't grown commercially until the 1800s.
Read More