Bartow, Fla. – A recent study published by The American Journal of Clinical Nutrition finds that moderate consumption of up to one cup per day of natural juices, such as 100% Orange Juice, lowers the risk of dementia compared to those who do not consume 100% juices. Inversely, consuming up to two cups per day of artificially sweetened beverages, and more than two cups per day of sugar-sweetened beverages, increases the risk of dementia.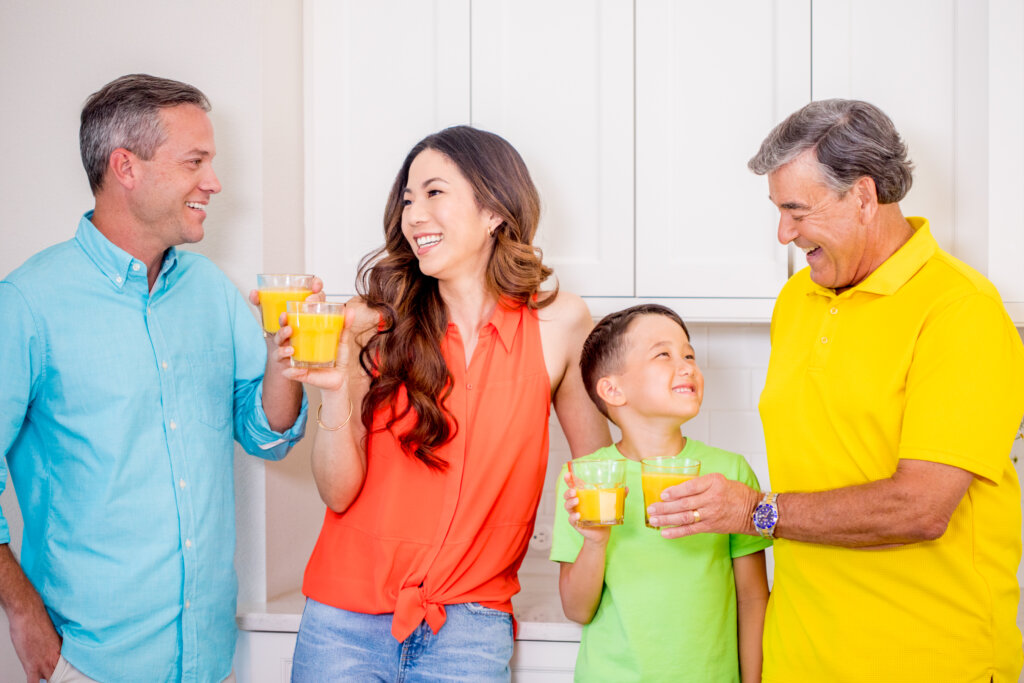 Drinking up to 1 cup per day of 100% juices by study participants also resulted in a higher volume of gray matter in the brain, which is responsible for processing information.
The study included 177,926 participants without dementia in the United Kingdom to assess the association of sugar-sweetened beverages, artificially sweetened beverages and natural juices with brain structure and risk of dementia.1 Beverage intake was evaluated between 2009 and 2012, and participants were assessed until 2021. The mean age of the participants was 56.4 years and 54.9% of participants were female. All participants who had a diagnosis of cancer, cardiovascular disease, and diabetes were excluded.
Nearly one third of all people over 85 years of age suffer from a form of dementia.2 This loss of cognitive function comes in different forms that can affect thought, memory, and reasoning. Dementia disrupts quality of life, and with limited options after diagnosis, it is critical to identify risk factors to help delay or prevent the onset of dementia.
"With June being Alzheimer's and Brain Awareness Month, studies such as these are important to help show that a nutrient dense beverage like 1 cup of 100% Orange Juice may support brain health and provide positive health benefits," stated Jennifer Hillis, registered dietitian at the Univ. of South Florida. One 8-ounce serving of 100% Orange Juice provides 100% daily value of vitamin C, and includes folate, potassium, magnesium, and thiamin. It also includes hesperidin, which has antioxidant-like properties.
For more information on the health and nutrition benefits of 100% orange juice, visit FloridaJuice.com.
References:
Chen H et al. Sugary beverages and genetic risk in relation to brain structure and incident dementia: a prospective cohort study. Am. J. Clin. Nutr. 117 (2023) 672–680. https://doi.org/10.1016/j.ajcnut.2023.01.015.
National Institute on Aging. "What is Dementia? Symptoms, Types and Diagnosis." NIH, https://www.nia.nih.gov/health/what-is-dementia. Accessed 26 April 2023.
About the Florida Department of Citrus
The Florida Department of Citrus is an executive agency of the Florida government charged with the marketing, research, and regulation of the Florida citrus industry. Its activities are funded by a tax paid by growers on each box of citrus that moves through commercial channels. The industry employs more than 33,000 people, provides an annual economic impact of $6.935 billion to the state, and contributes hundreds of millions of dollars in tax revenues that help support Florida's schools, roads, and health care services. For more information about the Florida Department of Citrus, visit FloridaCitrus.org.