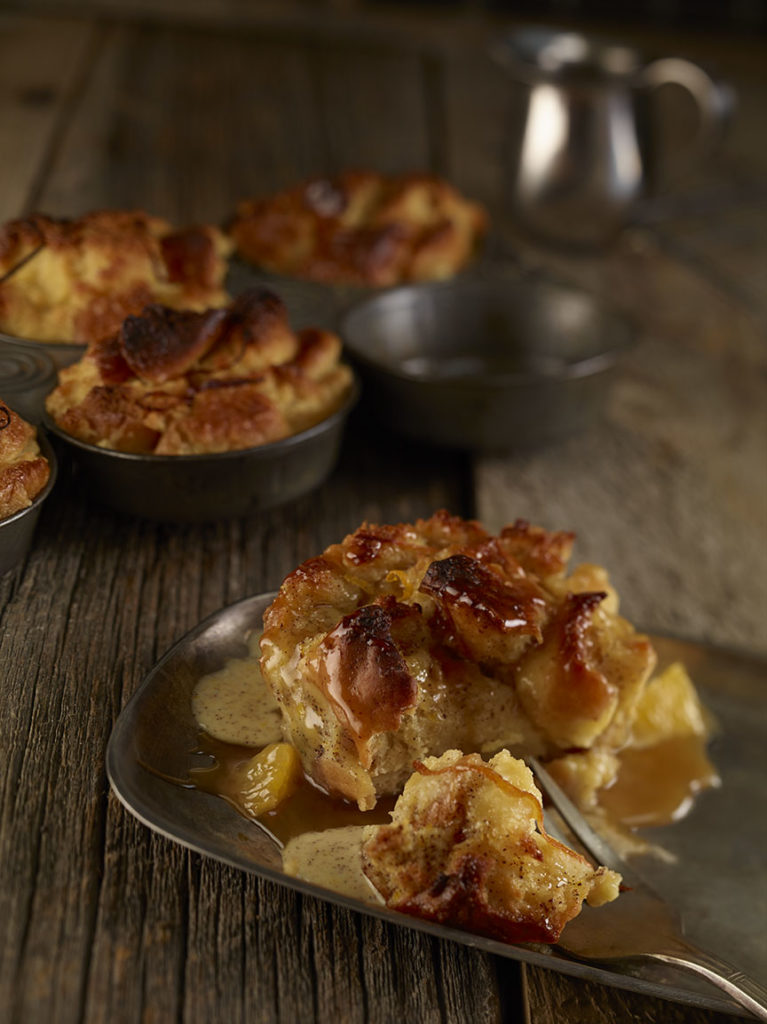 Bourbon and Orange Bread Pudding
Ingredients
Nutrition Facts
Amount per serving
Calories
383
% Daily Value*

Total Carbohydrate

16.1g

6%
*The % Daily Value tells you how much a nutrient in a serving of food contributes to a daily diet. 2000 calories a day is used for general nutrition advice.
¼ cup Florida Orange Juice

1 cup Florida Oranges, segmented

4 sweet Portuguese rolls, diced

1 vanilla bean pod, scraped

1 quart heavy cream

5 egg yolks

1 tbsp. Florida Orange zest

½ cup sugar

1 tsp. Saigon cinnamon

¼ cup brown sugar

3 tbsp. butter

¼ cup bourbon
Preparation
Bourbon and Orange Bread Pudding
1. Over a double boiler, combine the Florida Orange Juice, vanilla bean, heavy cream, egg yolks, Florida Orange zest, sugar and cinnamon. Whisk every few minutes for 15 minutes. Remove and let cool.
2. In a small pot, combine the brown sugar and butter. Bring to a simmer and remove from heat. Add the bourbon away from the flame.
3. Return to heat to cook off the alcohol. Turn off the heat and keep warm.
4. Mix the diced sweet rolls with half of the heavy cream mixture. Mix well, then pour into a 2-inch half hotel pan and cover with aluminum foil.
5. Fill a 4-inch half hotel pan with 2 inches of water, place the 2-inch half hotel pan inside the larger, water-filled pan, and bake at 375º F for 35 minutes.
6. Right before serving, drizzle some of the heavy cream mixture onto a plate and place a piece of bread pudding over the top.
7. Mix the Florida Orange segments with the bourbon sauce and spoon over the bread pudding.