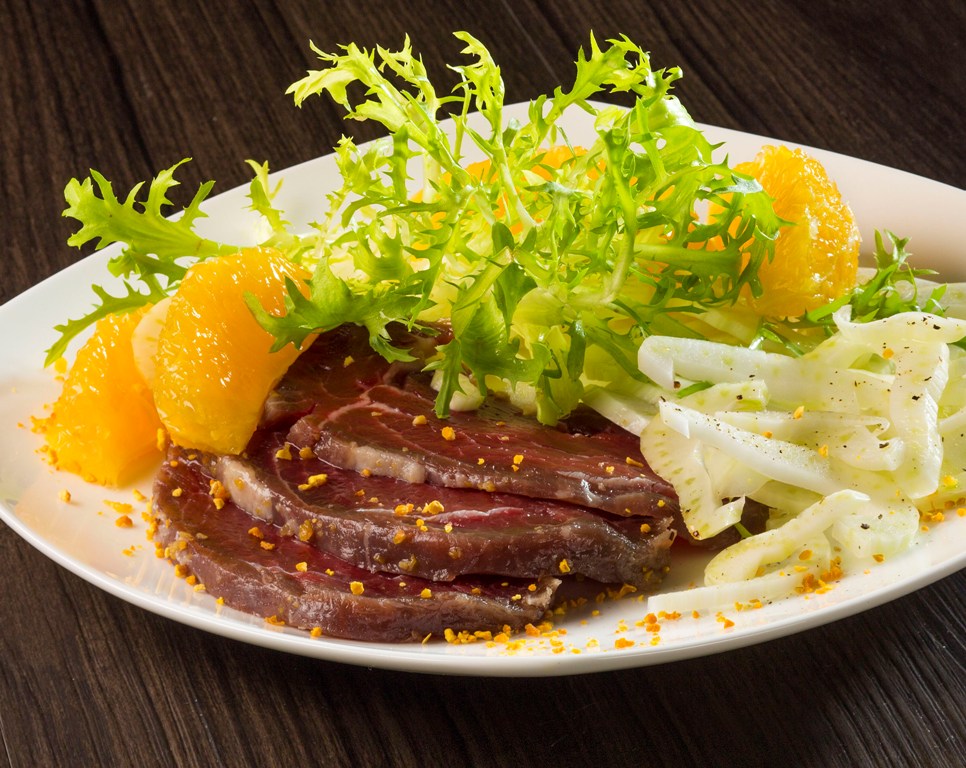 Citrus Cured Beef Tenderloin Over Florida Orange And Fennel Salad
Ingredients
For Citrus Dust:
2 Florida Oranges

1 Florida Grapefruit
1 lemon
For Beef:
¼ cup Florida Orange zest, minced
2 cups kosher salt

¾ cup light brown sugar
1 lb. beef tenderloin, center cut, trimmed
For Salad:
¼ cup Florida Orange Juice
2 cups Florida Orange segments

4 cups frisée, cleaned

2 cups fennel, thinly shaved
¼ cup extra virgin olive oil
Preparation
Citrus Dust:
1. Zest Florida Oranges, Florida Grapefruit and lemon.
2. Spread Florida Citrus zest on a layer of parchment paper and dry overnight.
3. Grind Florida Citrus zest in a spice grinder until a powder is formed. Reserve 1 teaspoon of Citrus Dust for garnish.
Beef Tenderloin:
1. Combine salt, brown sugar, Florida Orange zest and Citrus Dust in a medium bowl.
2. Lay a 12×12-inch square of plastic wrap on counter. Place ⅓ of salt mixture in the center of plastic wrap and lay beef tenderloin on top.
3. Place remaining salt mixture on top and sides of beef tenderloin, pressing to cover completely.
4. Pull the plastic wrap tightly around the beef and seal.
5. Place beef in a zipper-topped plastic bag and refrigerate to cure for 24 hours, turning over every 8 hours.
6. Remove beef tenderloin from plastic wrap and brush off salt mixture. Slice beef thinly.
Salad:
1. Place all ingredients in a large bowl and toss gently to combine.
To Serve:
1. Fan slices of beef tenderloin on serving plates. Place salad mixture on top of beef tenderloin. Sprinkle reserved Citrus Dust around rims of plates.