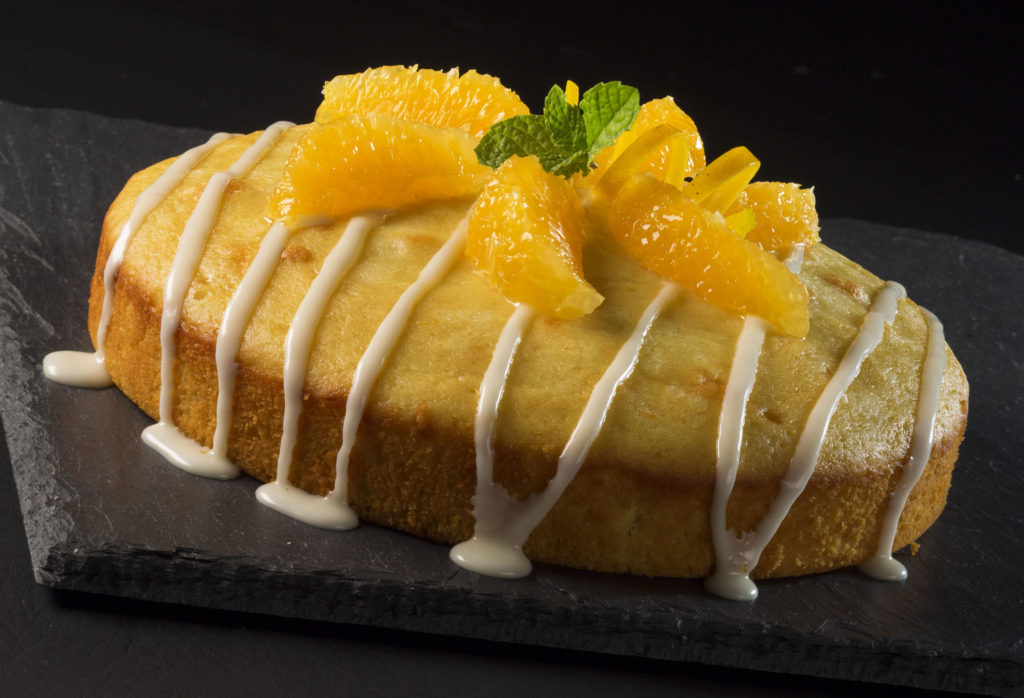 Florida Citrus Greek Yogurt Sea Salt Cake
Ingredients
For Cake:
¼ cup Florida Orange Juice
1 Florida Orange curl, if desired
6 Florida Orange segments, if desired
½ cup Greek yogurt
3 eggs
1 cup sugar
1 ½ cups all-purpose flour
2 tsp. baking powder
2 tsp. Florida Orange zest, grated
⅓ cup vegetable oil
1 tsp. sea salt, medium grain
1 mint sprig, if desired
For Glaze:
¼ cup Florida Orange Juice

¾ cup powdered sugar
Preparation
Florida Citrus Greek Yogurt Sea Salt Cake
1. Preheat oven to 350° F.
2. In a large bowl, combine Florida Orange Juice, yogurt, eggs and sugar and mix until smooth. Add flour, baking powder and Florida Orange zest and mix just until combined. Add oil and mix until fully blended.
3. Butter a 9-inch round cake pan and line the bottom with parchment paper. Pour cake batter into the prepared pan. Lightly sprinkle sea salt on top of the cake batter.
4. Bake for 30 to 35 minutes, or until a toothpick inserted into the center of the cake comes out clean. Let cake cool in pan for 8 minutes. Remove cake from pan and place on a wire rack until completely cool.
5. While cake is cooling, prepare glaze by combining Florida Orange Juice and powdered sugar and mixing until smooth.
6. Place cake on a serving plate and drizzle the glaze over top of the cake. Garnish with Florida Orange segments, Florida Orange curl and mint sprig, if desired.