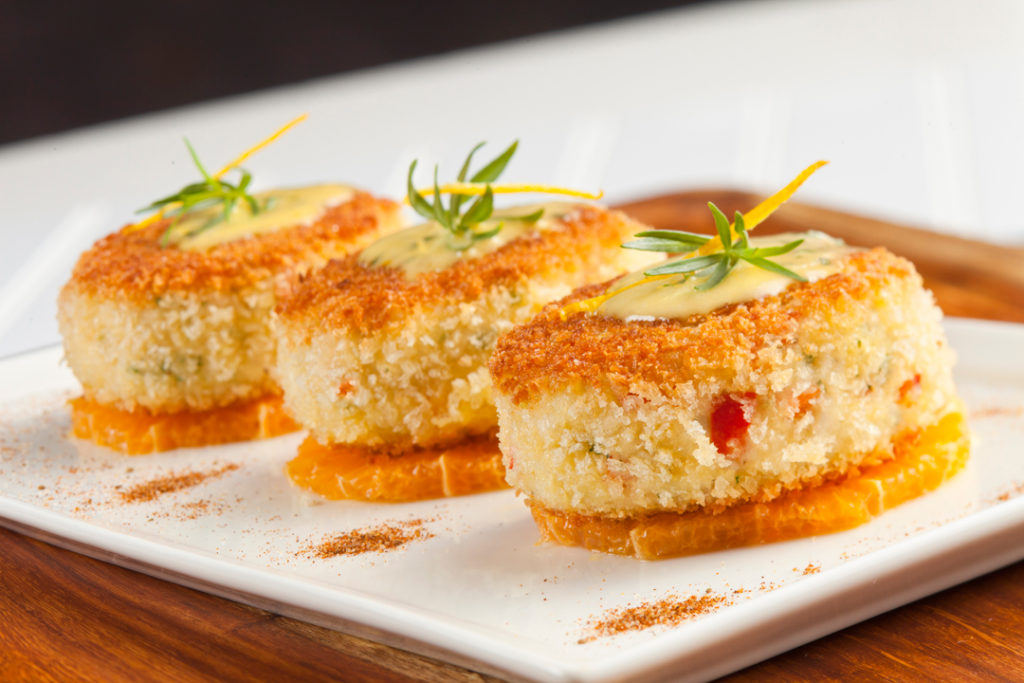 Florida OJ Crab Cakes with Citrus Hollandaise Sauce
Ingredients
Nutrition Facts
Amount per serving
Calories
441
% Daily Value*

Total Carbohydrate

33.8g

12%
*The % Daily Value tells you how much a nutrient in a serving of food contributes to a daily diet. 2000 calories a day is used for general nutrition advice.
For Crab Cakes:
1 cup Florida Orange Juice

Florida Orange zest, for garnish

2 tbsp. butter

½ cup red bell pepper, finely diced

½ cup yellow onion, minced

½ cup celery, minced

1 ½ lb. Maryland blue lump crab meat, picked

¾ cup light mayonnaise

1 egg, lightly beaten

2 tsp. Dijon mustard

1 ½ tsp. Old Bay Seasoning®

1 tsp. Worcestershire sauce

2 ¼ cups panko breadcrumbs, divided

6 tbsp. olive oil, divided

Fresh tarragon for garnish
For Citrus Hollandaise Sauce:
1 cup Florida Orange Juice

2 egg yolks

1 tbsp. tarragon

1 tbsp. lemon juice

1 tsp. Original TABASCO® brand Pepper Sauce

2 tbsp. butter, melted

Salt and pepper to taste
Preparation
Florida OJ Crab Cakes with Citrus Hollandaise Sauce
1. Melt the butter over medium heat in a medium pan. Add red peppers, onions and celery and cook until onions are translucent.
2. Add Florida Orange Juice and simmer until original volume is reduced by ⅔. Remove from heat, place in a mixing bowl and refrigerate until cool.
3. Add crab meat, mayonnaise, egg, mustard, Old Bay Seasoning®, Worcestershire sauce and 1 ¼ cups panko breadcrumbs.
4. Mix gently until incorporated, being careful not to overmix or break up crab meat. Place mixture in the refrigerator until well chilled.
5. Once chilled, form into 6 patties and lightly coat with remaining 1 cup panko breadcrumbs.
6. Place Florida Orange Juice in a medium saucepan and bring to a simmer. Cook over medium heat until reduced by half. Remove from heat and refrigerate until chilled.
7. Place Florida Orange Juice reduction, egg yolks, tarragon, lemon juice and Tabasco® in a food processor. Process ingredients while slowly adding melted butter in a steady stream until fully incorporated.
8. Season with salt and pepper to taste. Set aside and keep warm.
9. Heat a large nonstick sauté pan over medium heat. Add 3 tablespoons of olive oil and cook half of the crab cakes until golden brown on both sides.
10. Remove crab cakes and place on a baking sheet in a warm oven. Repeat with remaining olive oil and crab cakes.
11. Serve crab cakes with Citrus Hollandaise spooned on top. Garnish with Florida Orange zest and fresh tarragon.