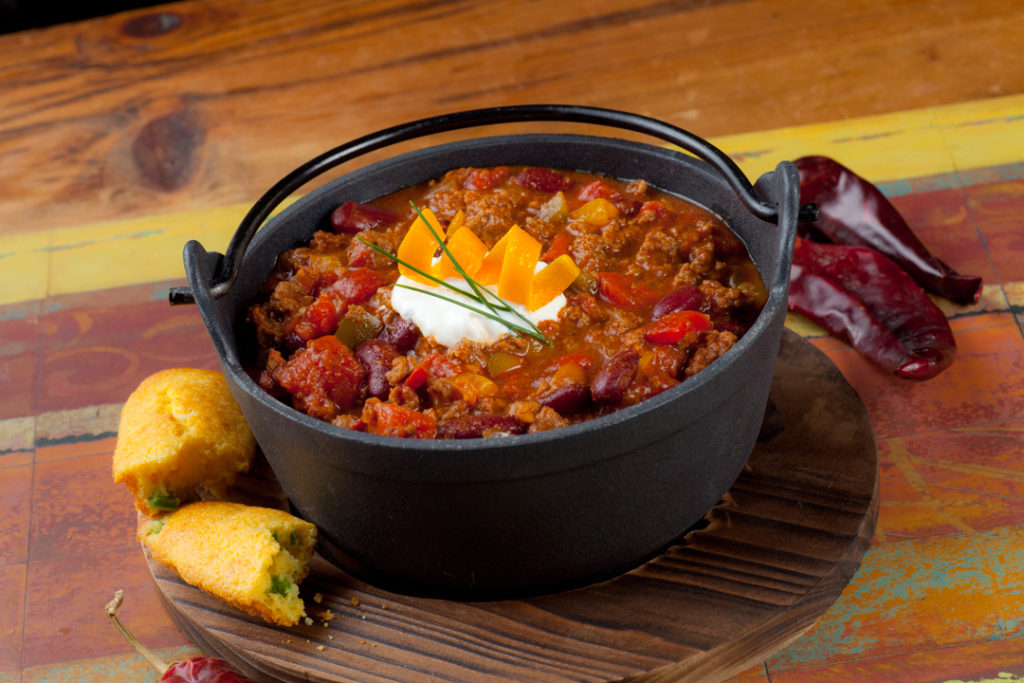 Florida Orange Buffalo Chili
Ingredients
Nutrition Facts
Amount per serving
Calories
409.3
% Daily Value*

Total Carbohydrate

17.8g

6%
*The % Daily Value tells you how much a nutrient in a serving of food contributes to a daily diet. 2000 calories a day is used for general nutrition advice.
1 ½ cups Florida Orange Juice

1 tsp. Florida Orange zest, chopped

4 tbsp. olive oil, divided

1 ½ lb. ground buffalo meat

Salt and pepper to taste

1 cup red bell pepper, chopped

1 cup green bell pepper, chopped

½ cup onion, diced

2 tbsp. jalapeño, seeded and diced

2 tbsp. chopped garlic                      .

2 tbsp. chili powder

1 tbsp. onion powder

2 tsp. garlic powder

2 tsp. ground cumin

1 (20-oz.) can diced tomatoes

2 tbsp. fresh oregano

1 tbsp. chipotle peppers, seeded, chopped

1 tbsp. finely ground cornmeal

2 cups shredded cheddar cheese

1 cup sour cream
Preparation
Florida Orange Buffalo Chili
1. Heat a large skillet over medium-high heat. Add 2 tablespoons of olive oil and buffalo meat and season with salt and pepper.

2. Brown meat until cooked through, then remove from skillet and set aside.
3. In a large stock pot over medium heat, place remaining 2 tablespoons of olive oil, red and green peppers, onion, jalapeño and garlic.
4. Cook for 8 to 10 minutes until onions are tender. Add chili powder, onion powder, garlic powder and cumin and cook for 1 to 2 more minutes to toast spices.
5. Add tomatoes, Florida Orange Juice, oregano, chipotle peppers, cornmeal and Florida Orange zest. Cook over medium-low heat for 45 minutes.
6. Serve chili in bowls and top with cheddar cheese and sour cream.
Serving Suggestion: Serve with Florida Orange Jalapeño Cornbread.