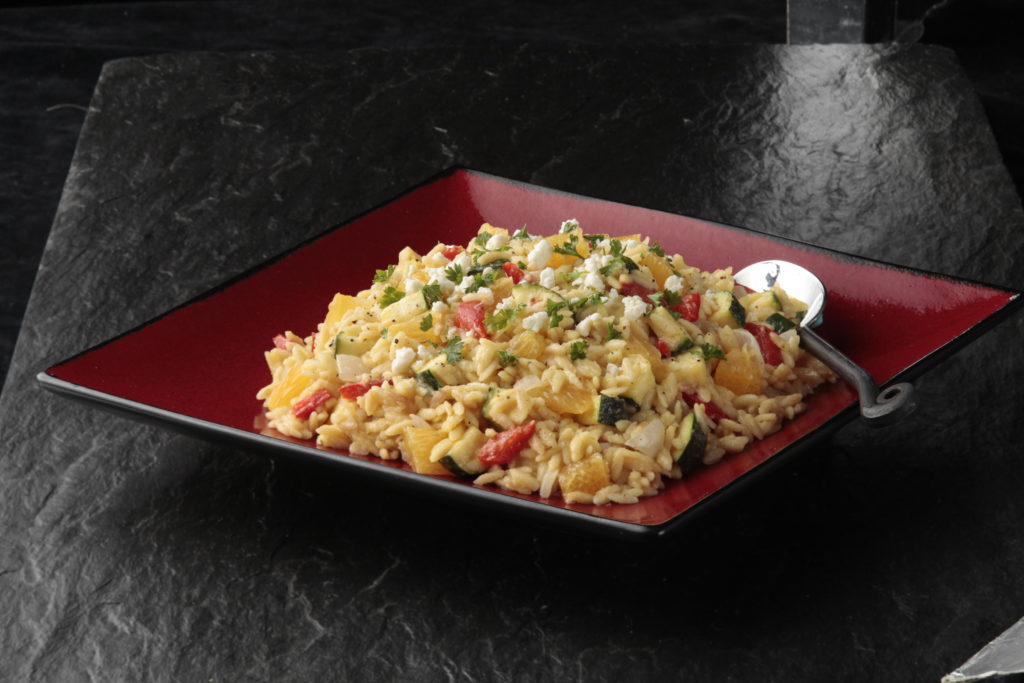 Mediterranean Style Orange Orzo Risotto
Ingredients
1½ cups 100% Florida Orange Juice
3 tablespoons butter, divided

1 medium zucchini, chopped

1 medium onion, chopped

1 small  red bell pepper, chopped

3-4 cloves garlic, minced

2 teaspoons Italian herbs

Salt and pepper, to taste

1½ cups orzo pasta
1 cup water

2 medium Florida oranges, sectioned, chopped

¼ cup chopped parsley

Crumbled feta cheese for garnish, optional
Preparation
Mediterranean Style Orange Orzo Risotto
1.
In sauté pan, heat 1 tablespoon butter over medium-high heat. Add zucchini, onion, bell pepper and garlic. Season with Italian herbs, salt and pepper to taste. Sauté until onions are translucent and vegetables are tender crisp; reserve and keep warm.
2.
In a 3-quart stock pot, melt remaining 2 tablespoons butter over medium high heat. Add the orzo and stir to coat. Sauté orzo, stirring constantly, until orzo starts to turn golden brown.
3.
Reduce heat to medium low. Combine orange juice and water; add liquid to orzo ½ cup at a time, stirring well after each addition.
4.
When the ½ cup of liquid is almost absorbed, add another ½ cup of liquid and repeat stirring. Continue adding liquid and stirring orzo until all the liquid has been added. The orzo should be tender, but not mushy, and have a creamy texture. If needed, add another ¼ cup of water.
5.
Remove from heat and stir in the vegetable mixture, chopped oranges and parsley; garnish with crumbled feta cheese, if desired.