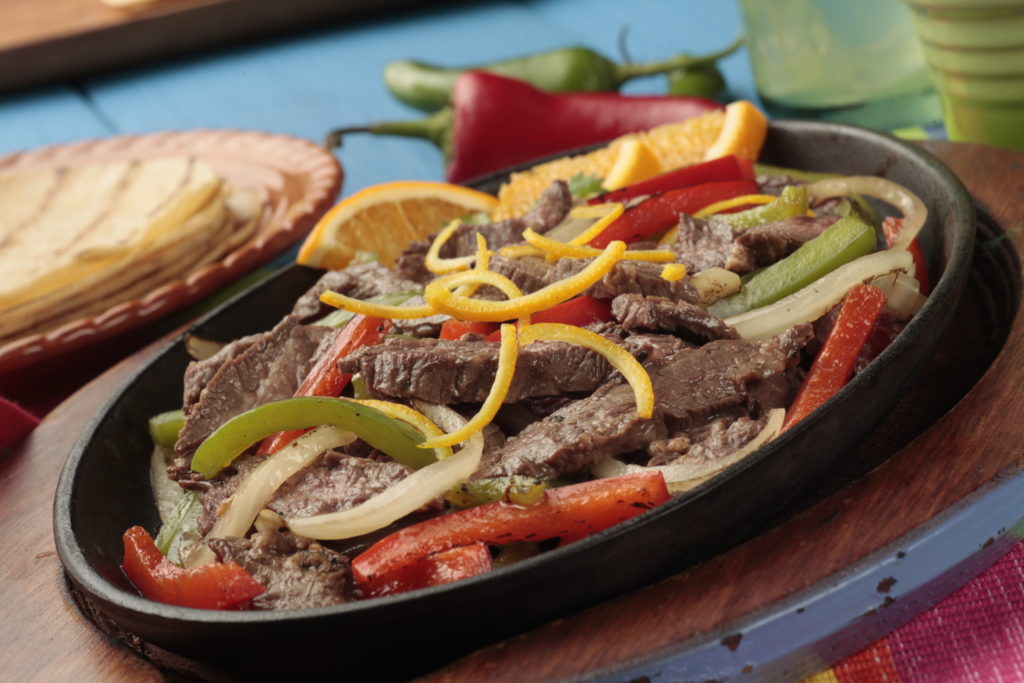 Citrus Skirt Steak Fajitas
Ingredients
Nutrition Facts
Amount per serving
Calories
258
% Daily Value*

Total Carbohydrate

17.5g

6%
*The % Daily Value tells you how much a nutrient in a serving of food contributes to a daily diet. 2000 calories a day is used for general nutrition advice.
1 cup Florida Orange Juice
1 Florida Orange, peeled and diced
¾ cup chopped cilantro
1 to 2 jalapeño peppers, seeded and minced
2 cloves garlic, minced
½ tsp. Florida Orange zest
½ tsp. coarse salt
½ tsp. black pepper
1 ½ lbs. beef skirt or flap steak
½ cup thinly sliced red onion
½ cup sliced green bell pepper
½ cup sliced red bell pepper
8 corn tortillas, warmed
½ cup shredded cheddar cheese

Preparation
Citrus Skirt Steak Fajitas
1. In large 1-gallon resealable plastic bag, combine Florida Orange Juice, Florida Orange, cilantro, jalapeño, garlic, Florida Orange zest, salt and pepper.
2. Seal bag and squeeze to mix ingredients thoroughly. Add skirt steak; squeeze out air and seal bag tightly. Refrigerate and marinate steak for at least 30 minutes or overnight for best flavor.
3. Remove steak and discard marinade. Grill over medium heat until medium rare, then remove from heat and let rest.
4. While the steak is grilling, sauté onion, green bell pepper and red bell pepper in nonstick skillet until tender.
5. Slice steak against the grain into thin strips. Serve steak with sautéed vegetables, tortillas and cheese.