Looking for an easy way to make your home smell like the holidays? Try this simple Florida Orange Juice inspired slow cooker potpourri. Mix the ingredients in your slow cooker and soon you will be immersed in the sweet holiday aroma. The scents in our potpourri recipe also provide a variety of wellness benefits for your family during the holidays.
Using Florida Orange Juice in your slow cooker potpourri provides an uplifting scent that oftentimes helps curb stress. The holiday season can be stressful; by filling your home with the scents of Florida OJ you can help create a more calming atmosphere.
The cinnamon in our potpourri recipe has stimulating properties. The scent of cinnamon can help fight mental fatigue and improve concentration and focus to get through long days of activities during the holidays.
Overall, filling your home with warm scents has a mood lifting effect that your family and friends will enjoy while spending time in your home throughout the holidays. Lifting spirits and relaxation are two simple ways to enjoy the holiday season.
What you'll need:
¼ cup Florida Orange Juice
8 cinnamon sticks, broken in half
½ cup of fresh cranberries
1 tsp. cloves, whole or ground
1 tsp. nutmeg
Slow cooker
Preparation:
Place ingredients in the slow cooker.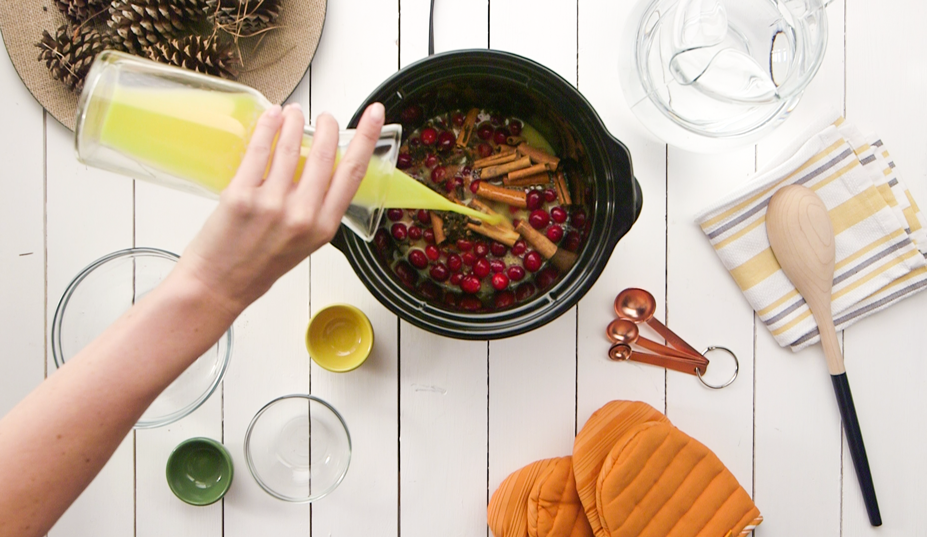 2. Cover. Turn heat to low.