Grapefruit Nutrition Facts

Fresh Florida Grapefruit contains essential vitamins and minerals that may help both children and adults meet intake recommendations for certain key nutrients.
Fresh Grapefruit
Grapefruit Juice
Fresh grapefruit is well-known for being rich in vitamin C and one-half of a medium grapefruit provides 50 percent of the recommended Daily Value.* Fresh grapefruit is also fat free, sodium free, cholesterol free, and contains no added sugars.
Grapefruit's combination of nutrients supports overall health and can help adults and children meet intake recommendations for certain key nutrients.
Vitamin C
Vitamin C is a powerful antioxidant and is important for skin and bone health, as well as immune system function. 
Fiber
Fiber is part of a healthy diet and has been associated with reducing serum cholesterol, decreasing blood glucose levels and lowering the risk of coronary heart disease.
Thiamin
Thiamin is crucial for energy metabolism for cell growth, development and function. 
Potassium
Potassium is a crucial mineral that is needed for the heart, kidneys, muscles and other organs to function properly.
Vitamin B6
Vitamin B6 helps the body make antibodies to assist in fighting disease as well as converting food into energy.
Phytonutrients
Phytonutrients are plant compounds thought to have health-promoting qualities.
Nutrient Content of 1/2 Grapefruit (Pink/Red)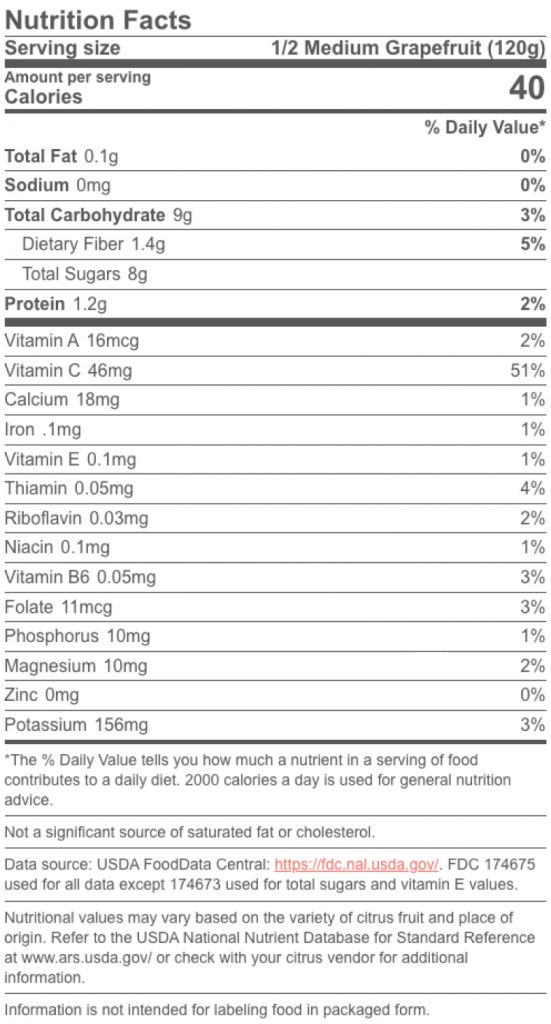 Nutrient Content of 1/2 Grapefruit (White)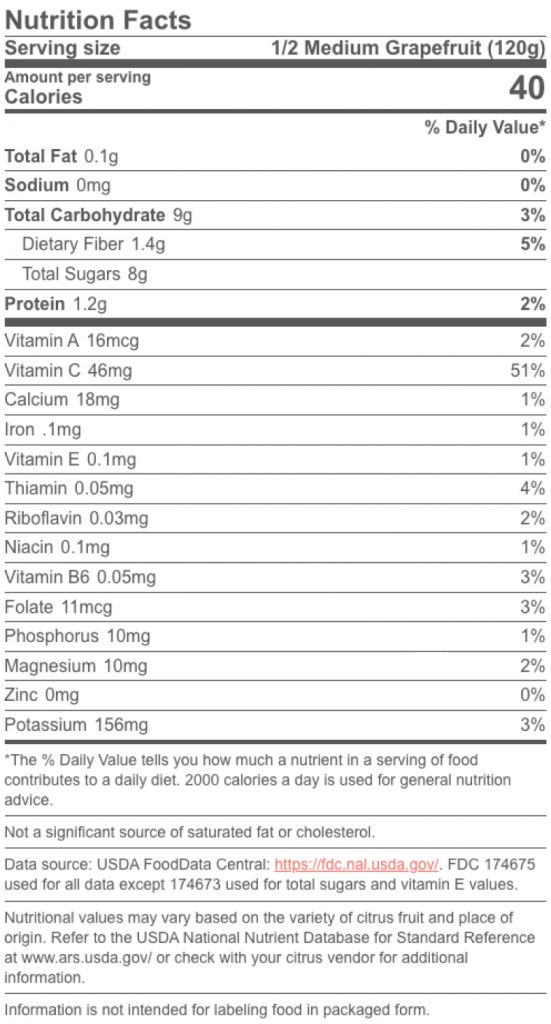 * Daily Value: Based on a 2000 calorie diet. FDA rounding rules applied when calculating percent DV based upon 2018 rules. Information is not intended for labeling food in packaged form. Nutrient values may vary based on brand or product types.