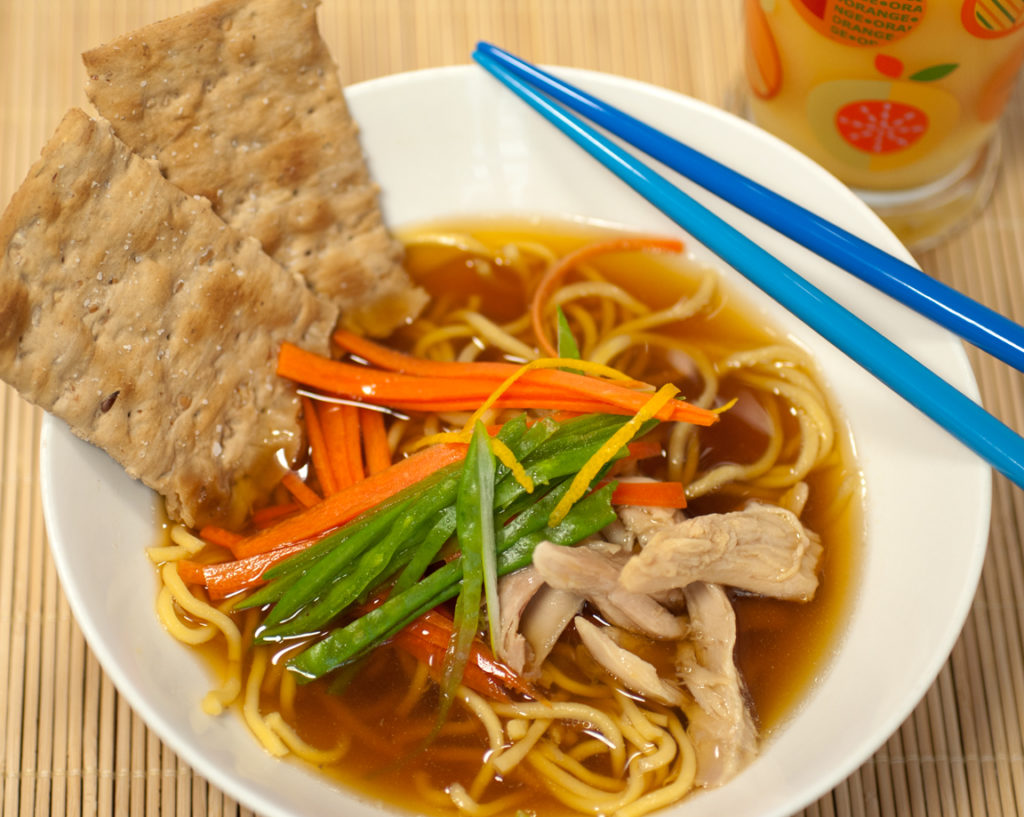 Asian-Style Citrus Chicken Noodle Soup
Ingredients
Nutrition Facts
Amount per serving
Calories
236
% Daily Value*

Total Carbohydrate

16.5g

6%
*The % Daily Value tells you how much a nutrient in a serving of food contributes to a daily diet. 2000 calories a day is used for general nutrition advice.
1 cup Florida Orange Juice
1 quart low-sodium chicken broth
3 tbsp. soy sauce

1 tbsp. sesame oil

1 tsp. fresh ginger, grated

12 oz. dried Asian-style noodles, such as soba

1 tbsp. vegetable oil

1 cup cooked chicken, shredded

1 cup snow peas

½ cup carrots, thinly sliced

½ cup cilantro, chopped

2 green onions, thinly sliced

Hot pepper sauce to taste, optional

Preparation
Asian-Style Citrus Chicken Noodle Soup
1. Heat the chicken broth in stockpot and add Florida Orange Juice. Bring to a low boil and add soy sauce, sesame oil and ginger. Reduce heat to low.
2. Meanwhile, cook noodles according to package directions; drain and rinse under cold water. Toss noodles with vegetable oil.
3. Divide noodles evenly among four large soup bowls. Add chicken broth mixture. Top with chicken, snow peas, carrots, cilantro and green onions. Serve with hot pepper sauce, if desired.