Imagine this scenario. First, your spouse comes home with a slight cough. Then, your co-worker is out for two days with a stuffy nose and sore throat. Next thing you know, it seems everyone around you is sick. Insert panic here — but don't fret. We are here to help.
We know that staying healthy is important to you and your loved ones. A healthy immune system can help your body stay healthy overall. Here, we have identified several ways to support your immune system which are especially helpful before and during cold and flu season.
Download and share this infographic.
95%
of people wash their hands incorrectly.1
Proper handwashing may reduce respiratory illness by 16–21%.2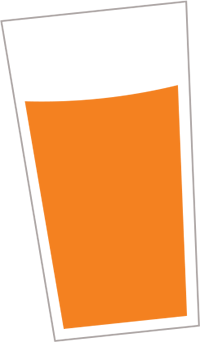 Support the immune system
Florida Orange Juice is a rich source of Vitamin C and contains other key nutrients that may help support the immune system.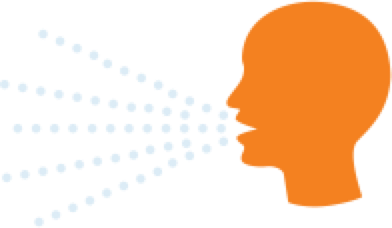 Covering your mouth
when you cough or sneeze may reduce the spread of cold & flu viruses.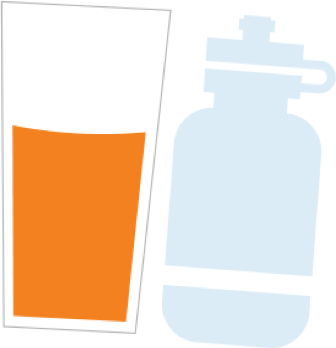 Stay hydrated
by drinking more fluids like water and nutrient-rich Florida Orange Juice.3
Support Your Immune System Naturally
Having a basic understanding of how nutrients support your immune system will help strengthen a healthy lifestyle and may help fight off a cold or flu. Some of the important immunity supporters to know include vitamin C, hesperidin, zinc, garlic, and vitamin D.
Vitamin C: Vitamin C is a nutrient most people are very familiar with. One serving of Florida orange juice is an excellent source of vitamin C, which is a key player in supporting a healthy immune system. Research reports that vitamin C (from supplements) may help shorten the duration and harshness of cold and flu symptoms in some individuals. Vitamin C plays a key role in immune response because it helps protect cells and promotes the production and function of immune cells.11,12 Make sure to include Florida Orange Juice as a regular part of your healthy diet to help support your immune system overall. Interested in finding new ways to consume vitamin C? See our Homemade Vitamin C Gummies recipe.
Hesperidin: Hesperidin is a plant compound within the family of flavonoids. Flavonoids have been researched for their extensive health properties. For example, a systematic review reported a 33% decrease in upper respiratory tract infections with flavonoid intake.13 Orange juice is a unique source of the flavonoid hesperidin since it is rarely found in other foods.14 Studies have shown hesperidin from orange juice consumption exerted positive effects on the immune system, including altering proteins and lowering the imbalance between free radicals and antioxidants in your body.15
Zinc: One of the not-so-commonly thought of immunity supporters is zinc. Zinc can be found in cells throughout your entire body. Studies have shown zinc to be helpful for several different aspects of a healthy body including skin care, cognitive functions, improved sensory and overall immune system health. One of zinc's most vital functions is the production of white blood cells, which are integral in immunity and healing processes and can help defend your body against a number of infections. As far as the common cold goes, a zinc preparation can be sprayed in the nostrils for helping treat common cold symptoms. Foods high in zinc include beef, lamb, beans and yogurt. Try our Slow Cooker Florida Orange Juice Chili that includes a dose of zinc from beef, vitamin C from Florida Orange Juice, and the added benefits from garlic.
Vitamin D: Did you know that vitamin D also supports a healthy immune system? Vitamin D is needed for bone growth and bone strength, and may help reduce inflammation along with supporting immune system health.17 Vitamin D is produced in the skin by UV rays from sunlight and is only naturally found in a few foods. Most Americans do not get enough vitamin D in their diet.18Here is some good news though, vitamin D can be found in fortified Florida Orange Juice as well as fatty fish, fortified dairy, and eggs. If you're looking for a new recipe to help increase your vitamin D intake, check out our Cedar Planked King Salmon Recipe with a Florida Citrus glaze. Use calcium- and vitamin D fortified Florida Orange Juice in this recipe to up your intake of vitamin D.
Continue to support your immune system with these great tips and Florida Orange Juice recipes!
References
https://ods.od.nih.gov/factsheets/Zinc-HealthProfessional/
https://medlineplus.gov/druginfo/natural/982.html
https://ods.od.nih.gov/factsheets/Zinc-HealthProfessional/
http://www.webmd.com/vitamins-supplements/ingredientmono-300-garlic.aspx?activeingredientid=300
https://www.ncbi.nlm.nih.gov/pubmedhealth/PMH0013804/
https://www.ncbi.nlm.nih.gov/pmc/articles/PMC3249897/
http://www.webmd.com/diet/guide/vitamin-d-deficiency
http://msutoday.msu.edu/news/2013/eww-only-5-percent-wash-hands-correctly/
https://www.cdc.gov/handwashing/why-handwashing.html
https://www.ncbi.nlm.nih.gov/pubmedhealth/PMH0010777
Hemilä H, Chalker E. Vitamin C for preventing and treating the common cold. Cochrane Database of Systematic Reviews. 2013. (1):CD000980. DOI: 10.1002/14651858.CD000980.pub4.
Douglas RM, Hemilä H. Vitamin C for preventing and treating the common cold. PLoS Med 2005;2:e168. [PubMed abstract]
Somerville, Adv Nutr. 2016;7(3):488-497.
Bhagwat S, Haytowitz D. USDA Database for the Flavonoid Content of Selected Foods Release 3.2. In. Beltsville, MD: Unites States Department of Agriculture; 2015.
Milenkovic , PLoS One. 2011;6(11):e26669.
Zinc. Facts for Consumers. Office of Dietary Supplements.
https://ods.od.nih.gov/factsheets/Zinc-Consumer/
Lang et al. Clin Thera. 2017; 39(5):930-945.